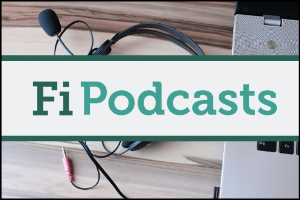 Insightful, Entertaining, and Valuable Financial Podcasts Worth Your Time 
Looking for the best financial podcasts to listen to? To help you out, I have compiled a directory of the most insightful, entertaining, and valuable podcasts that are worth your time. Below, I have separated some of these podcasts based on what you are looking for. 
Popular financial podcasts 
One of the best ways to get started is to look at the most popular podcasts. These podcasts have hundreds of thousands of listeners for good reason. These financial podcasts tend to have the ideal combination of entertaining and well-researched and up-to-date financial information. 
Here are my top popular financial podcast recommendations:
Planet Money
Clark Howard
Choose FI 
Financial podcasts for beginners
If you are just starting out, some financial podcasts could be way over your head. Don't worry. There are a number of podcasts that cover the basics of budgeting, making more money, and investing. You should start with these beginner-friendly podcasts to help build your financial education.
Here are my top financial podcasts for beginners:
Mad Fientist
Everyday Money Show
Beyond the Dollar 
Podcasts for investors 

Want to learn the latest strategies for boosting your returns or simply protecting what you have in unsure markets. These investment podcasts can help you with everything from various trading strategies to how to handle changes in the market. 
Here are my top financial podcasts for investors:
Bigger Pockets Money
Afford Anything
The Stacking Benjamins Show 
Podcasts for retirement or financial independence
Whether you are looking to retire in 25 years or 5 years, it helps to learn about how to reach your goals and make your money work for you. These podcasts can be really helpful whether you are looking to retire or simply reach financial independence. 
Here are my top financial podcasts for retirement or financial independence:
Earn and Invest (Formerly the What's Up Next? Podcast)
The FI Show
Choose FI 
Financial podcasts for families 
If you are earning and saving for your family, then you know that you face some unique challenges. The good news is that there are a couple of podcasts geared toward financial advice for families. Learn how to better budget, save up for a home or help pay for your kid's higher education. 
Here are my top financial podcasts for families:
Marriage, Kids & Money
In Love & Money
Financial podcast news 
It's a great idea to keep up with news on the latest of everything from stock market performance to news about inflation and the economy. These financial news podcasts will condense a day's worth of financial news into an easy-to-digest podcast. 
Here are my top financial podcasts for news:
Financial Sense 
Fast Money Podcast
Bloomberg Surveillance 
Where to Listen to Financial Podcasts 
There are a number of options when it comes to listening to your favorite financial podcasts. First, you can click or tap on the image links on this page and listen to the podcast directly from their website. You can also download and listen to these podcasts via the Apple Podcast streaming service, Spotify, and Google Podcasts.
Fiology.com is an educational resource designed to teach Financial Independence (FI). We scoured the internet to find content from the best and brightest of the FI community and created lessons covering the critical concepts.
Get free weekly Fiology lessons straight to your inbox!