Johnny Depp's Net Worth: Charting Towards a Blissful Billionaire Retirement
May 18, 2023

May 18, 2023

/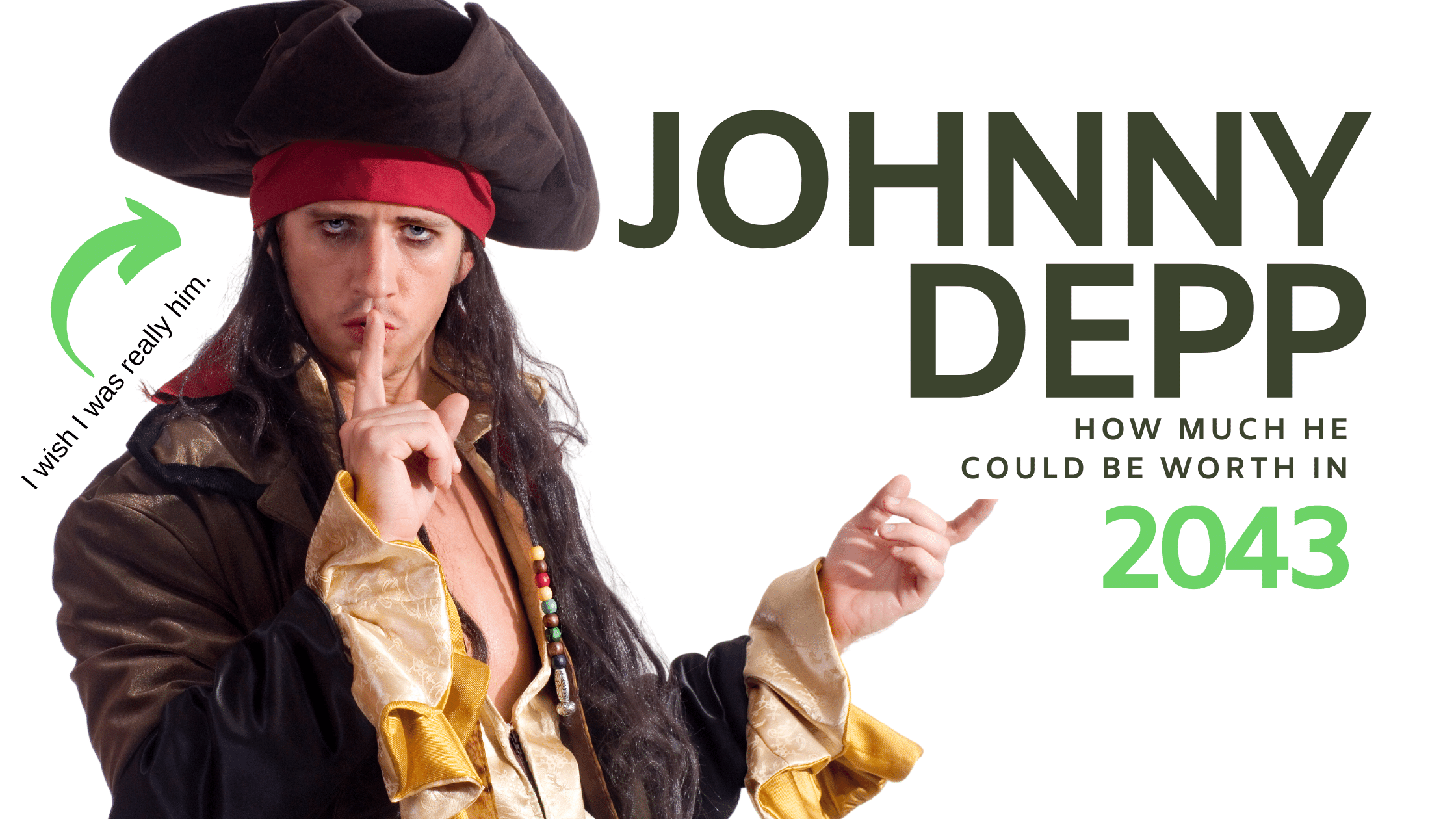 Headlines alluding to his retirement got me thinking about Johnny Depp's net worth, and possibly even more importantly, what his net worth could have been or may be in the future had he invested according to financial independence principles. I will get into what Johnny Depp's net worth might be in the future near the end of this article.
Johnny Depp, as reported by CBSNEWS recently stated he has "no further need for Hollywood" at the Cannes Film Festival.
Depp's intriguing statement came at the premiere of his latest film, "Jeanne du Barry," where he starred as King Louis XV under the directorship of Maïwenn. Remarkably, Depp's performance was entirely in French, showcasing his linguistic prowess and further cementing his reputation for versatility.
The film, a French production, was Depp's first movie since his 2020 role in "Minamata."
Why Would Johnny Depp Want To Leave Hollywood?
Despite the excitement surrounding his latest movie, Depp has been in the headlines for more than just his acting. The past few years have been tumultuous for Depp due to a high-profile legal dispute with his ex-wife, fellow actor Amber Heard. Heard made allegations of abuse against Depp, claims that Depp vehemently denied, insisting that these allegations affected his prospects of landing roles.
In a twist of legal fortunes, the court case culminated in a win for Depp, with the jury awarding him $10.35 million in June of last year. Heard, on the other hand, received $2 million as a result of her counterclaim.
Depp, known worldwide for his role as the eccentric Captain Jack Sparrow in the "Pirates of the Caribbean" franchise, has seen a career marked with towering highs and lows. His declaration of having "no further need for Hollywood" suggests a growing disillusionment with the American film industry.
Is Johnny Depp Going To Act Anymore?
With a highly successful career behind him, it appears that Depp may be choosing to step away from Hollywood, perhaps to chart a new course or to find solace away from the limelight and pressures of Tinseltown.
This departure from Hollywood, whether temporary or permanent, leaves a question mark over the future of an actor who has become an indelible part of modern cinema. For now, audiences can enjoy Depp's latest performance in "Jeanne du Barry," as they speculate about what could be next.
And this got me thinking…
How Much Money Has Johnny Depp Made?
A key component of the allure and intrigue of Hollywood is the earnings of its biggest stars. Average salaries for top-tier movie stars can range dramatically based on the stature of the actor, the budget of the film, and the expected box office performance. While an established actor might earn between $15 million to $20 million for a leading role in a high-budget film, these figures can exponentially increase when profit-sharing agreements are included.
Johnny Depp is a Hollywood heavyweight who has made a name for himself as one of the industry's highest earners. His career spans decades, marked by unique character portrayals and participation in blockbuster franchises.
How Much Does Johnny Depp Make Per Movie?
Here, we spotlight ten movies from Depp's career and discuss his reported earnings for each:
"Edward Scissorhands" (1990): In this early leading role that set the stage for his future successes, Depp reportedly earned $1 million.
"Donnie Brasco" (1997): Playing an undercover FBI agent, Depp reportedly made $5 million.
"Sleepy Hollow" (1999): As Ichabod Crane, Depp's earnings were around $10 million, reflecting his rising star power.
"Pirates of the Caribbean: The Curse of the Black Pearl" (2003): This was the first of Depp's lucrative roles as Captain Jack Sparrow. Depp earned around $10 million for this initial outing.
"Charlie and the Chocolate Factory" (2005): For his performance as the eccentric Willy Wonka, Depp's paycheck was reported to be $18 million.
"Pirates of the Caribbean: Dead Man's Chest" (2006): Depp's earnings increased significantly for the second installment of the franchise, with reports placing his pay at $20 million.
"Alice in Wonderland" (2010): As the Mad Hatter, Depp reportedly earned $50 million, thanks to a profit-sharing agreement.
"Pirates of the Caribbean: On Stranger Tides" (2011): Depp's pay skyrocketed to a reported $55 million, making it one of the most expensive paychecks in Hollywood history.
"The Lone Ranger" (2013): Despite the film's underwhelming box office performance, Depp earned $20 million for his role as Tonto.
"Fantastic Beasts: The Crimes of Grindelwald" (2018): Depp, despite his short screen time, was reported to have made $10 million for his role as the villain Gellert Grindelwald.
Despite the astounding figures, it's crucial to remember that such earnings do not translate into pure profit for the actors. Agents, managers, publicists, lawyers, and taxes can take a substantial portion of these paychecks. Still, there's no denying the financial lure of Hollywood, particularly for A-listers like Johnny Depp, whose career earnings underscore the staggering sums at play in the film industry.
What Could Johnny Depp's Net Worth Look Like In The Future?
Now just for the sake of "entertainment" let's plug in just the amounts of these ten projects into a compound interest calculator and see what Johnny Depp's net worth in the future could be.
If my math serves me correctly, the total of just these 10 films is reportedly 209 million dollars.
At an assumed rate of 8 percent a year, with that amount invested in a low cost broad market index fund today,, Johnny Depp may amass a fortune of $974,140,043.06 in twenty years. That's nearly a billion dollars!
Johnny Depp, with an impressive initial portfolio value of $974,140,043.06, would be in an enviable position to comfortably apply the 4% rule for his retirement strategy.
The 4 Percent Rule Withdrawal Rate
The 4% rule, a common guideline for sustainable withdrawals in retirement, suggests that Depp could initially withdraw around $38.97 million during the first year.
Thereafter, the withdrawal amount would adjust upwards with inflation. If his portfolio is invested in low-cost broad market index funds, which historically yield an average return of around 8% per annum, it would continue to grow even as he makes his annual withdrawals.
Assuming an average inflation rate of 2%, Depp's annual spending could increase to around $39.74 million in the second year, and continue to incrementally rise in the following years, thus maintaining his purchasing power.
This spending capability can sustain a luxurious lifestyle befitting a Hollywood A-lister, affording everything from high-end real estate to luxury travel, valuable art, philanthropy, and more.
Math Assumptions And Real Life
These figures represent an ideal scenario that assumes consistent 8% returns, which isn't guaranteed given the fluctuation of market returns year over year. Therefore, regular portfolio reviews and prudent financial management would be advisable to ensure the sustainability of Depp's retirement strategy.
It's worth noting that while this amount of financial independence may seem unfathomable to most, for Johnny Depp, this would represent a culmination of a highly successful career and savvy financial planning, enabling him to live out his years with considerable financial security and freedom.
I Do Not Know Johnny Depp's Real Net Worth
Having said all of this, I do not know Mr. Depp's true financial picture, I'm merely academically exploring numbers and potential scenarios based on the reported amount of some of his most well-known films. I do hope he has smart financial coaches in his corner providing sage guidance.
And because Johnny Depp is currently 59 years old as of this writing in 2023, this math does imply that he would be 79 before he started taking withdrawals. So, yes, this is a completely hypothetical exercise and does not account for other money he has earned in reality or the age at which he is going to start drawing down his wealth.
This portion of the article is simply to reflect the idea of compound interest growth and how the 4 percent rule is used to help a person understand to what extent net worth impacts the amount of money a person could expect to have available to them during their retirement. 
So who wants to meet me in Hollywood to set out on an eccentric, and profitable, acting career?