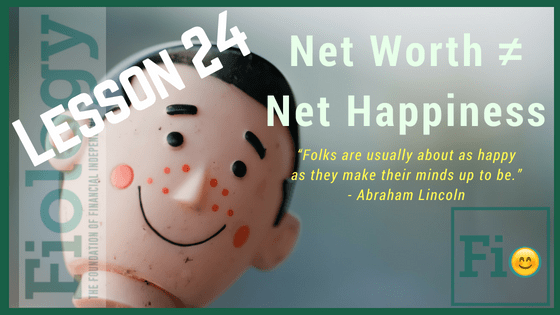 LESSON 24 : NET WORTH ≠ NET HAPPINESS
Having money makes aspects of our lives easier, but does it make us happier? Studies indicate a direct relationship between annual salary and happiness up to about $75K. After that, the relationship becomes less relevant. We discover many things about ourselves on our Financial Independence journey, our happiness as it relates to our building wealth is of the utmost importance to explore. After all, isn't happiness the point of it all? And if, after a certain point, it becomes less about the dollar amount, it make sense to focus on the subject of happiness separate and apart from net worth.
Watch:  How to be Happy, Rich, and Save the World  by Pete Adeney of mrmoneymustache.com
Read:  Money can buy happiness, but only to a point  by Mark Fahey of cnbc.com
Read:  Happiness is the Only Logical Pursuit  by Pete Adeney of mrmoneymustache.com
Read:  The Secret To Happiness… And Why It Has Nothing To Do With Money  by Todd Tresidder of financialmentor.com
Read:  How Does Valuing Money Affect Your Happiness? | Greater Good …  by Jill Suttie of greatergood.berkeley.edu
Action:  Watch 10 Habits of Happy People – How To Be Happy  by Practical Psychology on YouTube and in conjunction with what we discovered in the other resources in this lesson, put a process in place to do something different than you do now with the intent of increasing your happiness level.
Additional Resources:
Read:  The Practical Benefits of Outrageous Optimism  by Pete Adeney of mrmoneymustache.com
Read:  How to Be Happy: 23 Ways to Be Happier  by Tchiki Davis, Ph.D. of psychologytoday.com
Quote: "Folks are usually about as happy as they make their minds up to be." – Abraham Lincoln
Fiology.com is an educational resource designed to teach Financial Independence (FI). We scoured the internet to find content from the best and brightest of the FI community and created lessons covering the critical concepts.
Get free weekly Fiology lessons straight to your inbox!