What Does Financial Independence Mean?
February 27, 2018

April 18, 2021

/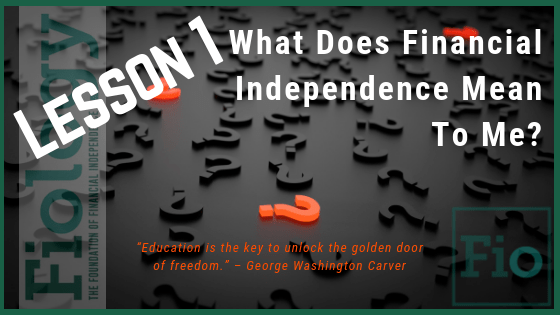 Financial Independence means having a net worth providing an amount of passive or near passive income that allows a person to no longer actively work for money if he or she chooses.
We each have different goals and life circumstances. Therefore, each of our FI journeys will be unique.
This Financial Independence course provides a foundation of knowledge to support the design and execution of your plan. It will provide the "how" to reach FI.
It is important to determine what FI means to you and why you want to pursue FI.
If we understand the objective, we will better maintain focus during this dynamic journey.
Read: 
Watch: 
Take Action:  
Google the term "Financial Independence" and explore some sites that look appealing to you. Note the many different definitions and explanations.

Write the answer to "What does Financial Independence mean to me?" Keep it in a place where you will see it often – perhaps in your wallet or purse or on a dry erase board in your kitchen. Your definition will change over time and this is perfectly normal. This will serve as a reminder that there is an objective we are working towards.

As this is the first lesson in this FI course, we encourage you to join and interact with others who are focused on achieving similar goals as you. We believe you will find the FI Community a positive and generous community that provides motivation along the way. There are hundreds of Facebook Groups and other forums regarding finances. I recommend the The Fiology Community Facebook Group. Request to join and I think you'll find it extremely helpful. Note: You'll have to type in the email address you used to enroll in the Fiology Free Financial Independence Course prior to approval. Being a part of The Fiology Community indicates your commitment as both a mentor and a mentee, willing to help each other as we continuously learn. Each week we will focus on a Financial Independence concept and invite all members to participate in the discussion, providing personal experiences, knowledge, and encouragement.
Check out some of the stories shared by those in the Financial Independence Community.
Additional Resources:
Quote: 
"Education is the key to unlock the golden door of freedom." – George Washington Carver