Your Why of Financial Independence
February 27, 2018

April 9, 2021

/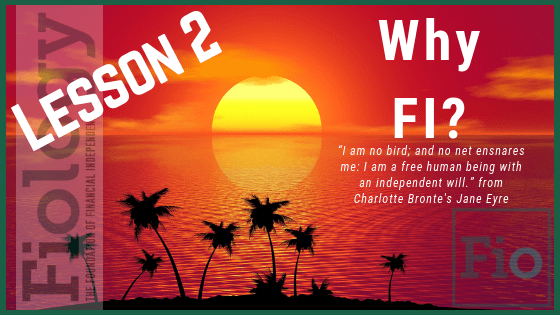 Why do you want to become Financially Independent? You now have your definition and are intrigued enough to pursue it – but why? It is important to know the why because this journey can be long, challenging, and at times boring. Knowing the "why" keeps us motivated. And if we truly understand our "why", we will have the answer when our friends and family ask, "So what's all this Financial Independence stuff about?" You'll confidently retort with your "why". This Fiology lesson encourages you to answer why you want to pursue and reach Financial Independence. Of course your answer will change over time but it is important to never lose focus of your why.
Read:
Watch:
Listen:
The Why of FI

by Brad Barrett and Jonathan Mendonsa of choosefi.com
Take Action:
F

or each of the 16 Great Reasons listed in Jillian's article above, consider how you believe your life will be affected when you reach your FI milestone. Write these ideas in a journal and refer to them often to remind you why you have chosen to achieve FI.
Additional Resources:
Quote:
"I am no bird; and no net ensnares me: I am a free human being with an independent will." from Charlotte Bronte's Jane Eyre