Songs About Money: A Cross-Genre Exploration of Financial Themes in Music
May 26, 2023

May 28, 2023

/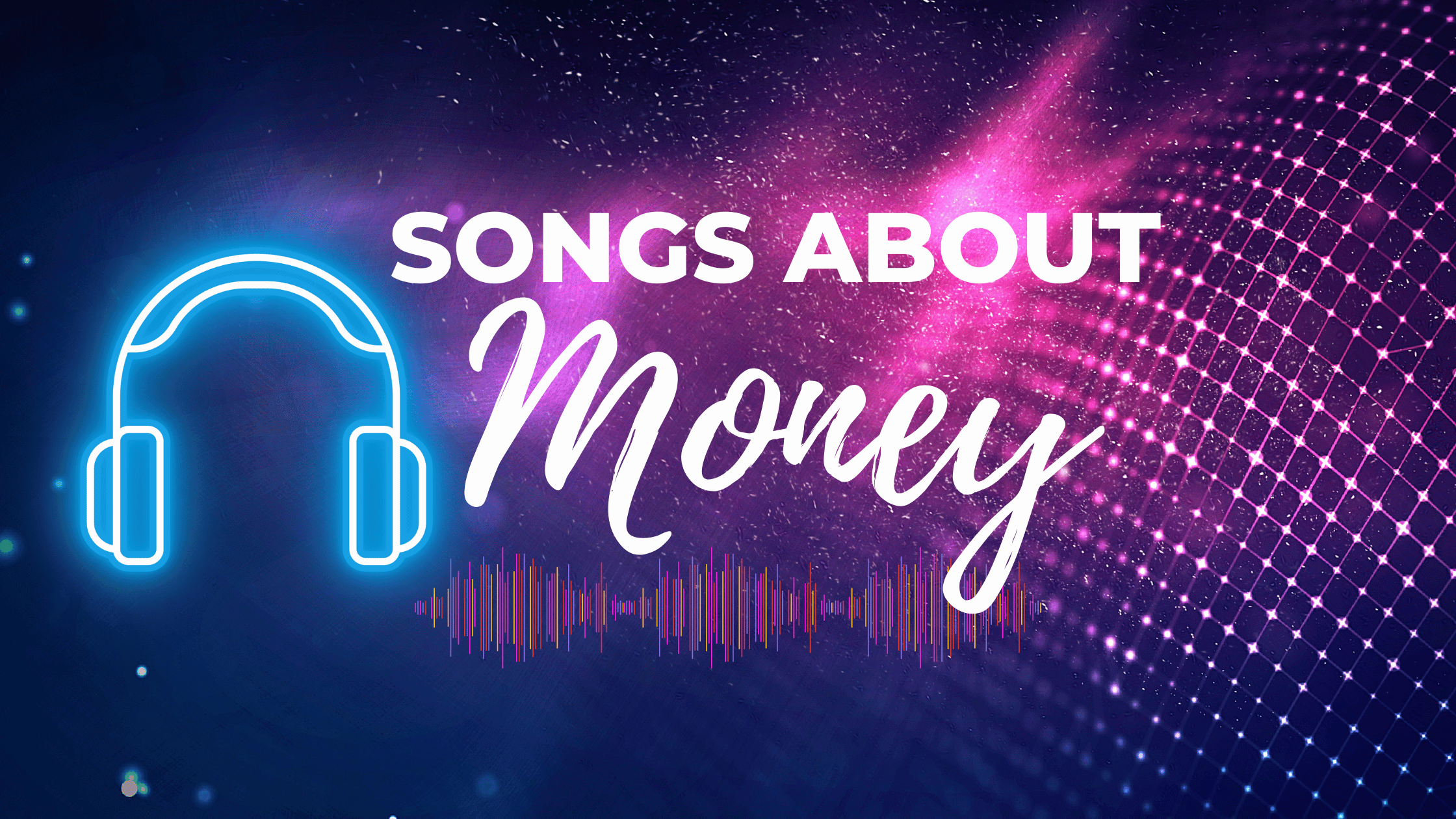 Songs about money have long provided a musical mirror to society's complex sentiments towards wealth and financial matters.
Covering a range of feelings from the struggle against financial hardship, the allure of extravagant affluence, to criticism of materialistic values, these songs span multiple genres including pop, hip-hop, country, and classic rock.
Perhaps you will find some inspiration or inclination for contemplation on your own financial independence journey with these songs.
The poignant lyrics and powerful melodies of these compositions have struck a chord with global audiences, reflecting our intricate relationship with this indispensable yet often contentious entity – money.
Over the generations and across generations there have been many money-themed songs. Here is a list of good songs about money.
Country Songs About Money
"If I Had a Million Dollars" by The Barenaked Ladies
Music Video
This humorous song encapsulates the simple dreams of ordinary people. Since its release in 1992, the Barenaked Ladies have sold over 15 million albums worldwide.
"Take the Money and Run" by Steve Miller Band
Music Video
This 1976 classic narrates a story of two young lovers deciding to rob a house. Steve Miller Band has been a staple in American music, with over 60 million record sales globally.
"Money Can't Buy" by Kenny Chesney
This song is a poignant reminder that money can't buy happiness. Kenny Chesney is one of the most successful country artists, with over 30 million albums sold worldwide.
"Cost of Livin'" by Ronnie Dunn
Music Video
This song gives insight into the financial struggles that many face. Ronnie Dunn, as part of the Brooks & Dunn duo, has amassed numerous awards and honors in the country music scene.
"Beer Money" by Kip Moore
Music Video
Kip Moore's 2012 song sings about the universal desire for more money. His debut album, "Up All Night," was the best-selling debut album by a male in 2012 and 2013.
Rap and Hip Hop Songs About Money
"Mo Money Mo Problems" by The Notorious B.I.G. feat. Puff Daddy & Mase
Music Video
This iconic 1997 track delves into the intricate complexities associated with attaining wealth. The song is among the most influential in hip hop, shedding light on the paradoxical effects of money.
"Money Trees" by Kendrick Lamar
Music Video
Part of Kendrick Lamar's critically acclaimed 2012 album "Good Kid, M.A.A.D City", "Money Trees" paints a vivid picture of growing up amid poverty and the pursuit of financial freedom. The song is a standout example of Kendrick's lyrically potent storytelling.
"Money in the Grave" by Drake featuring Rick Ross
Music Video
A 2019 release, this song explores the theme of amassing wealth and power, a recurring motif in Drake's discography. Drake's dynamic collaboration with Rick Ross in this track made it a notable hit.
"Money" by Cardi B
Music Video
Cardi B emphasizes the significance of financial autonomy in this 2018 anthem. Its powerful message and Cardi's distinct style make it a defining track in the genre's dialogue about money.
"Money Power Respect" by The Lox
Music Video
In "Money Power Respect", The Lox dissect the intertwined pursuit of these three pivotal aspects of life, particularly within the context of the rap scene. As influential figures in the East Coast rap narrative, The Lox bring a profound perspective to the discussion of money in music.
Pop Songs About Money
"Material Girl" by Madonna
Music Video
This 1985 classic discusses materialism and the love for money. Madonna is recognized as the best-selling female recording artist of all time by Guinness World Records.
"Price Tag" by Jessie J feat. B.o.B
Music Video
This song promotes the idea that the best things in life are free. Jessie J has sold over 20 million singles and 3 million albums worldwide.
"Money, Money, Money" by ABBA
Music Video
ABBA's song provides a lament about the hardships of money. ABBA is one of the best-selling music acts in history, with an estimated 150-385 million records sold worldwide.
"Billionaire" by Travie McCoy feat. Bruno Mars
Music Video
This 2010 pop hit is all about the fantasy of being ultra-wealthy. Bruno Mars is known for his retro showmanship, and he has sold over 130 million records worldwide.
"Rich Girl" by Gwen Stefani feat. Eve
Music Video
This 2004 song presents a playful take on a woman using a man for his money. Stefani has sold more than 30 million albums worldwide as a solo artist and as the lead vocalist of the band No Doubt.
Classic Rock Songs About Money
"Money" by Pink Floyd
Music Video
A track from their acclaimed album "The Dark Side of the Moon," Pink Floyd's "Money" paints a gritty portrait of greed and monetary desire. As one of the world's best-selling music artists, Pink Floyd's influence continues to reverberate through the world of rock music.
"Money for Nothing" by Dire Straits
Music Video
Released in 1985, "Money for Nothing" is Dire Straits' ironic take on the excesses and luxuries afforded by rock stardom. The band's enduring popularity is evident in their impressive global album sales, exceeding 120 million.
"For the Love of Money" by The O'Jays
Music Video
The O'Jays, revered pioneers of Philadelphia soul, offer a scathing critique of money-driven motivations in "For the Love of Money." Their rich legacy in the music industry includes a string of gold and platinum albums.
"Can't Buy Me Love" by The Beatles
Music Video
This timeless Beatles classic serves as a gentle reminder that love's value transcends material wealth. As the best-selling music act of all time, The Beatles have left an indelible mark on the music world, with an astounding 600 million units sold.
"Money (That's What I Want)" by Barrett Strong
Music Video
This 1959 hit is a frank and upfront ode to the desire for money, and is considered the first major hit from Berry Gordy's Motown record company. It's a testament to the lasting impact of the early days of rock and roll.
What Songs Would You Add to This List?
From songs reflecting the stark reality of poverty and the struggle for financial stability to those fantasizing about lavish lifestyles, the theme of money is as diverse as the genres it permeates.
Artists across time and styles have engaged with this motif, creating timeless classics and chart-topping hits that continue to resonate with listeners.
Whether it's the money song from the '80s or the tunes used for the dollar dance, music's power to articulate our complex relationship with money remains unchallenged.
It's clear that as long as money continues to hold a central place in our lives and societies, it will continue to inspire artists and find expression in the universal language of music.