Stoicism: The Philosophy of Financial Independence
November 9, 2018

May 15, 2021

/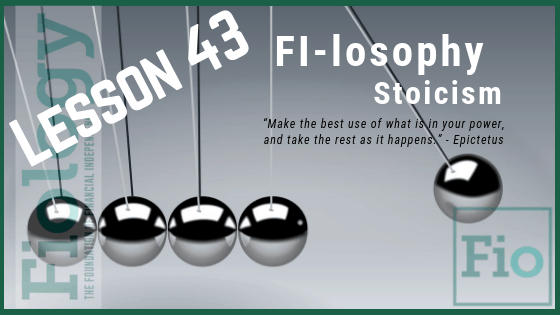 What Does Stoicism Have To Do With Financial Independence?
Stoicism is defined as a practical philosophy that provides a way to think about how we interpret stimuli, both positive and negative, so that we can respond in a controlled and appropriate manner.
The process of saving and investing on the way to achieving Financial Independence is fairly straightforward. First, we educate ourselves. Following that, we plan and take action. And then of course we make plenty of mistakes along the way and incorporate lessons learned. Then we repeat steps as necessary.
Okay, so maybe not so straightforward. But the goal you are working toward is worth the effort.
The expected outcome is that at some point in the future your financial means is no longer an obstacle for your happiness.
Anyone who has at least a few months of experience on this journey knows that achieving success (happiness) isn't as easy as automating monthly Roth contributions.
Life brings challenges that often hinder and alter our progress. We are human so we have to find a healthy way to face life's challenges. We tend to emphasize mindfulness as a way to promote happiness. The ancient philosophy introduced in this lesson is a type of mindfulness that can help you maintain a healthy and practical frame of mind along the journey.
This lesson a basic introduction. For a deeper look, consider searching for books by Jonas Salzgeber and Ryan Holiday and other writers found in the content.
Fiology thanks The Happy Philosopher for shaping this lesson.
Read:
Watch:
Take Action:
Additional Resources:
Quote:
"Make the best use of what is in your power, and take the rest as it happens." – Epictetus