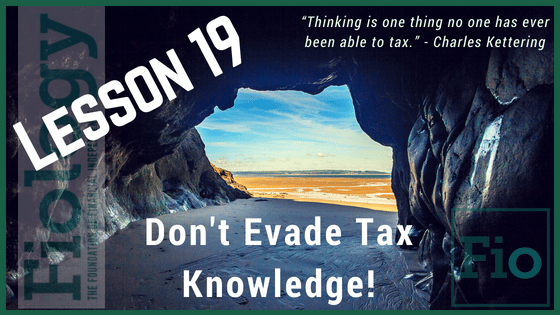 LESSON 19 : DON'T EVADE TAX KNOWLEDGE!
Fiology thanks Juan of Finance Clever, a tax expert of the FI community, for shaping this lesson.
What if instead of assuming misfortune when the subject of taxes surfaced, you saw opportunity? Opportunity to expand on your collection of skills and knowledge. Opportunity to understand and make the most of the rules. Opportunity to keep more of your hard-earned money, and increase your freedom and flexibility in life.
Does this sound far fetched?
It sounded strange to me just a few years ago. But after seeing dozens of people from all walks of life making incredible progress on their finances, largely due to their understanding of the tax system, I decided to embrace taxes. I started by reading and making an effort to understand the subject, and then taking action and applying what I was learning. My newly acquired knowledge paid off immediately.
This lesson is meant to serve as the foundation of your tax knowledge. We hope that you find it insightful and that you take action as you expand your skills.
Read:  A Basic Overview of the U.S. Tax System  by Juan of financeclever.com
Read:  Effective Tax Rates: How Much You Really Pay in Taxes  by Robert Farrington of thecollegeinvestor.com
Watch:  Basics of US income tax rate schedule | Taxes | Finance & Capital Markets | Khan Academy  by Khan Academy of YouTube
Read:  The Basics of the GOP Tax Plan, Explained  by Alicia Adamczyk of twocents.lifehacker.com
Read:  SECTION 199A FOR BEGINNERS  by Sean Mullaney of fitaxguy.com
Take Action: Pull up your most recently filed tax return. If you are not sure how to do that, here are some ideas. If you used a DIY tax software such as Turbotax, you can access your tax return by logging into your account. If you used a CPA or tax preparer you can ask them for a copy.
Once you have your tax return handy, take a look at your sources of income, your adjusted gross income (AGI) and how much your ended up paying in taxes. From there, use the knowledge you have acquired and look for ways to reduce your tax liability going forward. Can you increase your contributions to your retirement accounts? What about a health savings account (HSA), or a flexible spending account (FSA)?
Additional Resources:
Read:  Never Pay Taxes Again  by Jeremy from gocurrycracker.com
Read:  Retire Even Earlier Without Earning More or Spending Less  by Brandon of madfientist.com 
Read:  Tax-efficient fund placement  of bogleheads.org
Quote: "Thinking is one thing no one has ever been able to tax." – Charles Kettering
Fiology.com is an educational resource designed to teach Financial Independence (FI). We scoured the internet to find content from the best and brightest of the FI community and created lessons covering the critical concepts.
Get free weekly Fiology lessons straight to your inbox!