Geoarbitrage: Moving Closer to Financial Independence
June 18, 2018

April 15, 2021

/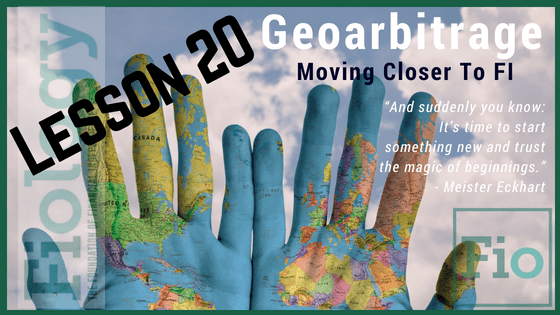 Geoarbitrage reduced our FI timeline by 9 years!
This proves that if someone is willing to take advantage of geoarbitrage, they can achieve FI much sooner than once expected. Our FI number is a combination of our investment portfolio and our expenses. We can achieve FI quicker either by increasing the size of our portfolio, or by reducing our expenses, preferably both.
Even with good income and the magic of compound interest, increasing your investment portfolio takes time. There is no magic bullet to make it jump overnight. That is unless you hit the lottery, inherit a stack of money, or strike it rich with an IPO, bitcoin, etc.
Geoarbitrage means moving to a lower cost of living area in order to be able to benefit financially and personally.
This can either result in you being able to save and invest faster, reaching your financial independence number earlier than if you lived in a high cost of living area. Or, it could mean how much money you need for financial independence can be reduced if it already provides the income needed to live in the lower cost of living area.
Geoarbitrage allows you to significantly reduce your expenses immediately with one move.
This is not to say it's an easy strategy or that anyone can do it effectively. You need to be able to find a new location to live (where you will still be happy) that is significantly less expensive than your current location.
Because of the nature of this topic and the many angles that you can consider like domestic vs. international geoarbitrage, this lesson will have an increased number of resources and websites to explore. It is all very interesting and the intent is to leave you with the ability to seriously consider the possibilities of using this method to promote your own Financial Independence.
Fiology thanks Dylin of Retire By 45, a geoarbitrage expert of the FI community, for shaping this lesson.
Read:
Listen:
Take Action:
The most important part of using the Geoarbitrage strategy is finding the right area to relocate.  You want to make sure it's someplace that will make you happy, feel safe, and provides a good home for you and your family.

As Dylin points out in his blog post, it helps to identify these 3 elements in your search.

Your must-haves (can't live without)
Your nice-to-haves (ideal scenarios)
What you can live without (there's always a compromise).

Use the following resources to help you find the best place for your situation:
Additional Resources:
Quote:
"And suddenly you know: It's time to start something new and trust the magic of beginnings." – Meister Eckhart