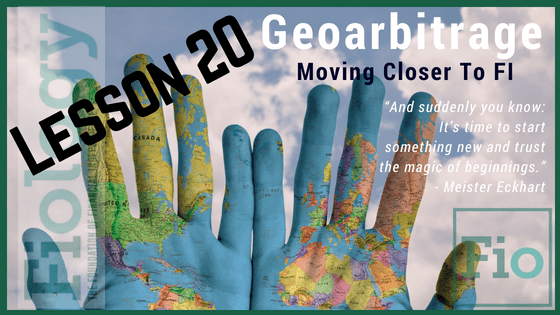 LESSON 20 : GEOARBITRAGE: MOVING CLOSER TO FI
Fiology thanks Dylin of Retire By 45, a geoarbitrage expert of the FI community, for shaping this lesson.
Geoarbitrage reduced our FI timeline by 9 years! This proves that if someone is willing to take advantage of geoarbitrage, they can achieve FI much sooner than once expected. Our FI number is a combination of our investment portfolio and our expenses. We can achieve FI quicker either by increasing the size of our portfolio, or by reducing our expenses, preferably both.
Even with good income and the magic of compound interest, increasing your investment portfolio takes time. There is no magic bullet to make it jump overnight (unless you hit the lottery, inherit a stack of money, or strike it rich with an IPO, etc).
Geoarbitrage, on the other hand, allows you to significantly reduce your expenses immediately with one move. This is not to say it's an easy strategy or that anyone can do it effectively. You need to be able to find a new location to live (where you will still be happy) that is significantly less expensive than your current location.
Because of the nature of this topic and the many angles that you can consider like domestic vs. international geoarbitrage, this lesson will have an increased number of resources and websites to explore. It is all very interesting and the intent is to leave you with the ability to seriously consider the possibilities of using this method to promote your own Financial Independence.
Read:  How We Used Geographic Arbitrage to Retire 9 Years Ahead of Schedule  by Dylin Redling of retireby45.com
Listen:  050 | Domestic GeoArbitrage | Freedom Is Groovy  by Brad Barrett and Jonathan Mendonsa of choosefi.com
Read:  Geographic Arbitrage, or Why the Great Plains are Great  by Physician on FIRE of physicianonfire.com
Read:  Geographic Arbitrage and an Early Retirement Preview  by Brandon of madfientist.com
Read: Using Domestic Geoarbitrage to Retire Sooner by Chris Mamula of caniretireyet.com
Read:  The 30 countries that are best for your money, according to expats  by Lauren Lyons Cole of businessinsider.com
Read:  THE 13 BEST COUNTRIES FOR AMERICANS WHO WANT TO LIVE ABROAD  by Thrillist Travel of thrillist.com
Take Action:  The most important part of using the Geoarbitrage strategy is finding the right area to relocate.  You want to make sure it's someplace that will make you happy, feel safe, and provides a good home for you and your family.
As Dylin points out in his blog post, it helps to identify these 3 elements in your search: 1) Your must-haves (can't live without); 2) Your nice-to-haves (ideal scenarios), and 3) What you can live without (there's always a compromise).
Use the following resources to help you find the best place for your situation:
Where To Live?  This is a Google Doc with data on over 45 cities around the world.  It has average costs to rent a one-bedroom apartment (you can use this for reference to compare locations even if you want a bigger place), weather information, and more.
Expatistan  compares the cost of living between cities
Nomad List  is a crowdsourced database of cities in the world analyzing nearly 200K data points every second to help you choose where to go next.
Numbeo  is the world's largest database of user contributed data about cities and countries worldwide. Numbeo provides current and timely information on world living conditions including cost of living, housing indicators, health care, traffic, crime and pollution.
FIRECalc: A different kind of retirement calculator  is a favorite in the FI community. Explore it using the factors of your situation and discover potential options.
Additional Resources:
Read:  The 26 major cities with the highest quality of life in the world  by Will Martin of businessinsider.com
Listen:  047 | The Cult Of Home Ownership & Crushing Geoarbitrage | Millennial Revolution  by Brad Barrett and Jonathan Mendonsa of choosefi.com
Read:  The Best Cities For Expats  by Sebastian Modak of cntraveler.com
Quote: "And suddenly you know: It's time to start something new and trust the magic of beginnings." – Meister Eckhart
Fiology.com is an educational resource designed to teach Financial Independence (FI). We scoured the internet to find content from the best and brightest of the FI community and created lessons covering the critical concepts.
Get free weekly Fiology lessons straight to your inbox!