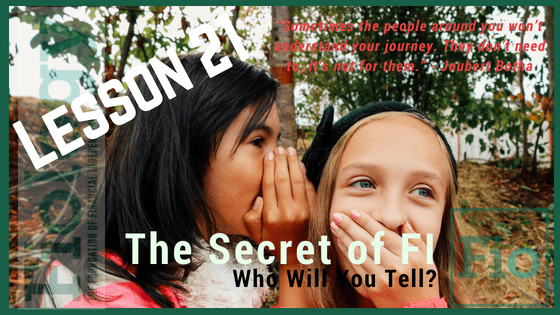 LESSON 21 : THE SECRET OF FI
It is natural for us to want to shout the message of Financial Independence from every mountain top. Remember the first time the idea of Financial Independence truly clicked and you wanted to share it with the entire world? So do I. But is voicing the benefits of Financial Independence with such zeal prudent? 
What appears as logical and generous from within the FI community can be perceived as far-fetched and self-righteous from outside. Whether we are attempting to help a neighbor see the logical light and encourage the change of a few financial habits or sharing our own progress with a parent or loved one, there will be those who choose not to accept and others who will interpret our good intentions as braggadocious.
We should be aware of how our messaging can be received, consider how to best shape it, and be ready to accept the outcome. Another equally acceptable option many choose, and for justifiable reasons, is to keep their zeal of Financial Independence visible only to members of the FI community. This has a better chance at reducing potentially disappointing effects in our everyday lives.
This lesson provides a few perspectives on sharing information about our Financial Independence journey and/or accomplishment. We hope it helps you understand some of the dynamics you will no doubt experience along the way.
Read:  SHOULD WE CONCEAL OUR WEALTH?  by Justin of rootofgood.com
Read:  What the 1% won't tell you. EXTREME STEALTH WEALTH Will Make You Rich  by Leif Kristjansen of fiveyearfireescape.com
Read:  Do You Talk About Money With Friends?  by Stella Blackmon of cupofjo.com
Read:  The Dark Side of Stealth is Silence  by Doc G of diversefi.com
Read:  The Rise Of Stealth Wealth: Ways To Stay Invisible From Society If You Have Money  by Financial Samurai of financialsamurai.com
Take Action: Don't leave it entirely up to spur of the moment impulse to determine how you will, or will not, share your message of Financial Independence or your family's financial particulars. Decide, as a family, how you want to respond to neighbors, family, friends, and coworkers when the issue of money or the resulting lifestyle comes up. Establishing a plan ahead of time may alleviate some uneasiness or misunderstandings going forward.
If you want to help but don't want to get too involved personally, feel free to refer anyone you think may be interested in Financial Independence to sign up to receive weekly Fiology lessons and let them know you are there when and if they decide they want to discuss it.
Additional Resources:
Read:  Retiring young – What do you tell family and friends? Did your relationships with them change?  a thread on reddit.com
Quote: "Sometimes the people around you won't understand your journey. They don't need to, it's not for them." – Joubert Botha
Fiology.com is an educational resource designed to teach Financial Independence (FI). We scoured the internet to find content from the best and brightest of the FI community and created lessons covering the critical concepts.
Get free weekly Fiology lessons straight to your inbox!