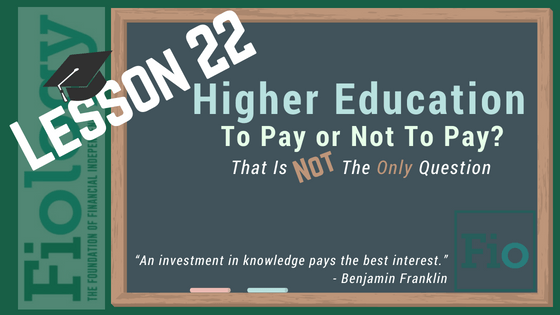 LESSON 22 : HIGHER EDUCATION: TO PAY OR NOT TO PAY?
Fiology thanks Seonwoo Lee, a college hacking expert of the FI community, for shaping this lesson.
Being responsible parents and fiscal fanatics we would be remiss in not exploring the idea of planning for our children's higher education. Many are in the camp that since we had to pay for college ourselves that our children must. However, as a proponent of Financial Independence you acknowledge that graduating with student loan debt will add obstacles once your child decides to pursue their own Financial Independence. Many commit to covering their child's education expenses entirely. However, as a proponent of Financial Independence you acknowledge the competing priorities for your cash within your own Financial Independence journey. Clearly the decision is up to you. The pros and cons of different college savings vehicles and techniques are worth understanding. This information, in conjunction with your own belief systems and family circumstance, will help you determine just how involved you want to be in helping your child with their higher education goals. The resources in this lesson will not answer all of your questions on this topic but it will give you plenty to think about and help you develop questions that need to be answered to support your plan to address the issue of higher education.
Read:  Stocks — Part XXIX: How to save money for college. Or not.  by JL Collins of jlcollinsnh.com
Read:  Why GCCJr has no 529  by Go Curry Cracker of gocurrycracker.com
Listen:  078 | Student Loan Debt Repayment | Travis Hornsby  by Travis Hornsby of choosefi.com
Read:  Is College Really Worth It?  by Scott Henderson of simplifinances.com
Read:  How much to save for college?  by Vishal Kirti of everythingabouteducation.net
Watch:  How College Loans Got So Evil  by Adam Ruins Everything from TruTV on YouTube
Take Action: Taking as many of the applicable factors that you can think of, determine if it is best to begin saving for college. If so, put a plan in place and execute. As factors change over time, consider annually, take another look at these factors and adjust as necessary.
If you decide to pursue the possibility of taking out student loans, do yourself a favor and determine How Much Debt Can You Afford? estimated based on the college and major being considered. This calculator helps students determine the amount of loans they can afford to take out without crippling their future selves with debt.
Additional Resources:
Listen:  078R | College Hacking Toolbox  by Brad Barrett and Jonathan Mendonsa of choosefi.com
Explore:  College Confidential Welcome to  The World's Largest College Forum
Read:  Myths about College Scholarships  by Ben of petersons.com
For Humor:  Higher Education – Ultra Spiritual Life episode 58  by JP Sears of howtobeultraspiritual.com on YouTube
Quote: "An investment in knowledge pays the best interest." – Benjamin Franklin
Fiology.com is an educational resource designed to teach Financial Independence (FI). We scoured the internet to find content from the best and brightest of the FI community and created lessons covering the critical concepts.
Get free weekly Fiology lessons straight to your inbox!