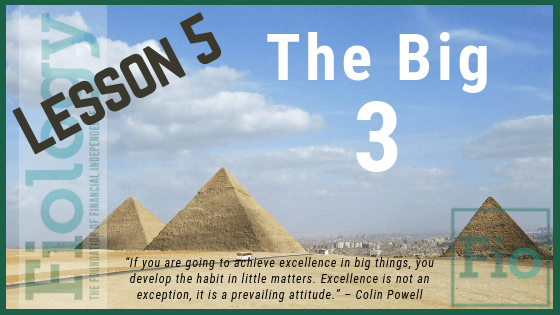 "The Big Three" Household Expenses
Housing, transportation and food are the commonly referred to as the "Big Three" of household expenses. In general, people spend the most of their money on these three recurring expenses.
The more money we have after paying our expenses, the more we can invest. Depending on our circumstances, we may not be able to make an immediate change that significantly impacts our income generation.
But, if we take a critical look at how we trade our current income for "The Big Three" household expenses of housing, transportation, and food, we can likely redirect a worthwhile portion of that spending towards our FI goals.
As a result of the additional investment, we may reach Financial Independence sooner than expected.
Read: 
Watch:
Take Action:
Consider your own personal situation, including commute to work, the type of home in which you currently reside, and your dining habits. Debate and/or discuss if they are currently in line with how you want your life to be designed. Consider practical changes that can be made to align your habits with your Financial Independence journey.

Think back on your dining experiences. How many of them would you classify as not worth the time and money you spent? Think about what percentage that is of your total dining out experiences and consider how this awareness can have a positive impact on your wallet, health, and overall happiness.
Additional Resources:
Quote:
"If you are going to achieve excellence in big things, you develop the habit in little matters.  Excellence is not an exception, it is a prevailing attitude." – Colin Powell
Fiology.com is an educational resource designed to teach Financial Independence (FI). We scoured the internet to find content from the best and brightest of the FI community and created lessons covering the critical concepts.
Get free weekly Fiology lessons straight to your inbox!