The Power of a Positive Alter Ego Trip
February 9, 2019

April 6, 2021

/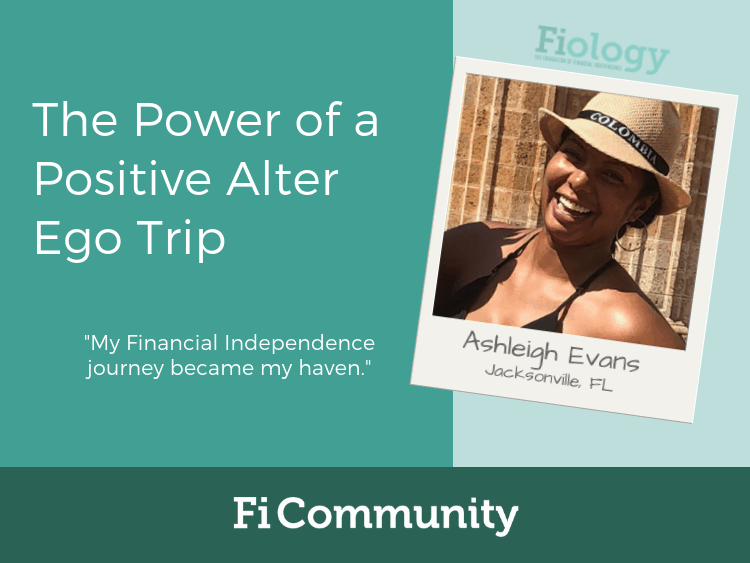 Dr. Jekyll has Mr. Hyde, Beyoncé has Sasha Fierce, and I have Jade. My FI alter ego was born in 2015, on a quiet, gray evening in Everett, WA. I remember it because it was one of those fork-in-the-road moments that alter your life forever.
I was 24, newly released onto the world as an Ensign, the most junior Officer rank in the United States Navy. The problem is I was assigned to the SWO community. SWO is the abbreviation for Surface Warfare Officer and there is an established stereotype of the SWO community that they eat their young. This means that they treat their junior ranks harshly and sometimes intolerably. SWOs can tell you that this is in addition to an already grueling daily schedule supporting short and long term training, administrative, leadership, and operational requirements. And at some point in all of this we are supposed to find time to rest, eat well, and workout. If I were to list all of the things expected out of a SWO in their first few years on a ship, you would likely think it impossible to accomplish without an abundance of unhealthy stress, and you would be correct.
Back to how Jade came to be. A Chief, a senior enlisted supervisor whose creed states they have the responsibility to shape the junior Officers like me, said to me, "no one on this ship respects you." On that quiet evening in Everett, I remember feeling myself split into two personalities. One would become hardened, self-doubting, embittered, biding her time until her contract was up. This is the side of me most people know. As time went on, she lost her voice, she was talked over, and she was disregarded.
The other side – I call her Jade – was impulsive, a hot mess, opinionated, and shameless. She stood on that bridge wing (the place from where ships are driven) and said she would never work a job she didn't enjoy again. So began my FI journey.
Not long after that moment, I met a man who told me about tax liens. I told him I wanted to be a millionaire by thirty, so he gave me a copy of Rich Dad, Poor Dad. I knew that real estate needed to be a part of my journey, so I flew down that summer to Atlanta and met up with him. A few days later, I found myself on the steps of Fulton County courthouse with my hand in the air, bidding on a house with an address that I'd never heard of. To anyone who reads this, don't do this. I was so caught up in the moment that I forgot to write down the address when I won the bid. It would be a full year later until I'd find out where this tax lien house was located.
Time marched on and the military continued to take its toll. I moved to Charleston, SC, bought a house using my VA loan, and started a program called Nuclear Power School in May 2016. I got my ass handed to me. I eventually stopped sleeping, blacked out during a test due to exam anxiety, and transitioned into a later graduating class. This is important to my FI journey because whenever life in my 9-5 wasn't what I wanted it to be, I gave Jade more energy to flourish; in other words, my Financial Independence journey became my hobby, or, more accurately, my haven. After the one-year grace period for my tax lien property mentioned earlier, I found a real estate attorney and began the quiet title and foreclosure process.
I failed out of Nuclear power school in December 2016. It was the most liberating and relieving feeling I've yet to experience. I was incredibly excited but couldn't articulate why. I directed that energy into real estate. I moved in with my best friend and rented out my house in South Carolina for $500 more than the mortgage per month. Immediately after the foreclosure of the house in Atlanta was finalized, I looked for a contractor and began the rehabbing process. While Ashleigh's life was collapsing around her, Jade was thriving. By May 2017, I had been a self-managing landlord for 5 months, hired a property manager in Atlanta, and had two tenants in two homes – one of which I owned free and clear.
Here's the thing about my FI journey. It's never been about reaching Financial Independence. I've never calculated my FI number. My FI journey gave me the opportunity to learn about myself and life at my own pace. I decided to rent to a young, 25 year old single mother because, unlike in the SWO community, there were no negative repercussions for being seen as soft. I was the boss. It allowed me to learn about my leadership style, my tendency to spend rather than save, and the consequences of my impulsive nature.
On the note of impulsive spending behaviors, this brings us to January 2018 – when I attended my first CampFI. I attended week one of CampFI Southeast in order to learn the best approach for buying my third property. I was pumped!
The only issue was no one at CampFI thought it was a good idea for me to buy another property. Looking at Personal Capital, I had a net worth of $62,000 – $8,000 in credit card debt, a $15,000 car loan, and a personal loan for $17,000 with a 13.5% interest rate. Everybody was really nice to me about it, but as I look back at that year, I know they were screaming inside.
I was crushed when everyone said I shouldn't buy my property, but I had such a good time that I didn't mind listening and seeing where it took me. I heeded the advice of David Baughier, Stephen Baughier, Doug Nordman, and Mindy Jensen. I opened a Roth IRA with Vanguard. Before CampFI, I didn't think I needed one since I contributed to my Thrift Savings Plan (TSP). And I borrowed against my TSP to refinance my personal loan that was at a 13.5% interest rate to a 2.5% interest rate.
That summer, I realized that I wasn't going to be selected as a Department Head. This is the next milestone of the SWO career path. When a SWO fails to be selected as a Department Head, their career options become immediately limited. As always, when the SWO life became too overwhelming for Ashleigh, Jade thrived. I turned 100% of myself over to creating the life I had always wanted to live. In August, I put in my paperwork to separate from active duty, effective roughly a year later. I sold my car and applied for Yale University School of Nursing.
Based on the great advice from CampFI, I made drastic progress towards becoming debt free. I got a roommate and put every extra penny towards paying the debt down. On January 15th, 2019 I was accepted into Yale's Graduate Entry Prespecialty in Nursing (GEPN) for Certified Nurse-Midwifery/Women's Health Nurse Practitioner and Women's Health Program (CNM/WHNP). I became debt free on February 1st. When I start school in August I plan on house hacking using a triplex. The goal will be to continue adding to my current net worth of $197K.
On 29 January, 2019 Ashleigh was interrupted four times before 11:22am before she could finish her sentence. Jade, however, called her property manager during lunch and asked, without interruption, if her tenant had paid rent yet. "Yes!" said her property manager. "I just deposited January and February's rent along with January's late fee into your account." Jade then received a text from her tenants in South Carolina: "Hey Ashleigh, we're ready to pay February's rent whenever you can send the invoice." So, between Jade and Ashleigh, who had the better day?
I did.
By Ashleigh Evans