LESSON 27 : MINDFULNESS
June 29, 2018

April 18, 2021

/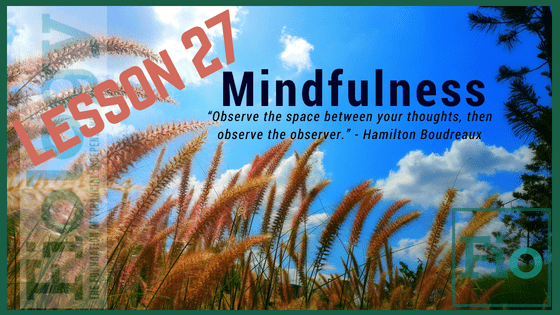 Mindfulness is a type of meditation that focuses on the experience of the present. It is a technique used to increase focus and reduce or eliminate the influence that overpowering negative emotions have on our mood, attitude, and actions.
Research suggests many benefits of mindfulness including reduced symptoms of anxiety and depression as well as lower blood pressure and deeper sleep. Our physical and psychological well-being have significant impact on how we approach finances and by extension, our Financial Independence journey. The more we are aware of this, the better we can respond to impulses without negative consequence to our bottom line and we may even become a little happier along the way.
Read: Breathing Techniques: A Guide to the Science and Methods by Rebecca Moses of groomandstyle.com
Read: Mindfulness Vs Meditation: The Difference Between These Two … by Lecia Bushak of medicaldaily.com
Listen: 061 | Mindfulness And FI | Cory Muscara by Brad Barrett and Jonathan Mendonsa of choosefi.com
Read: Any of the Many Great Raptitude Articles Related to Mindfulness by David of raptitude.com
Explore: Best Meditation Apps of 2018 by Kristen Fischer of healthline.com
Take Action: Based on the ChooseFI podcast and your review of the Meditation Apps from healthline.com, decide on and incorporate a trial period that you are going to attempt some form of mindfulness. Keep track of your progress, thoughts, results, etc. Identify improvements resulting from your new practice.
Additional Resources:
Listen: 061R | Bandwidth by Brad Barrett and Jonathan Mendonsa of choosefi.com
Read: 50 Mindfulness Quotes To Inspire Present Moment Awareness by Barrie Davenport of liveboldandbloom.com
Quote: "Observe the space between your thoughts, then observe the observer." – Hamilton Boudreaux