A Financial Independence Awakening
August 28, 2020

May 18, 2023

/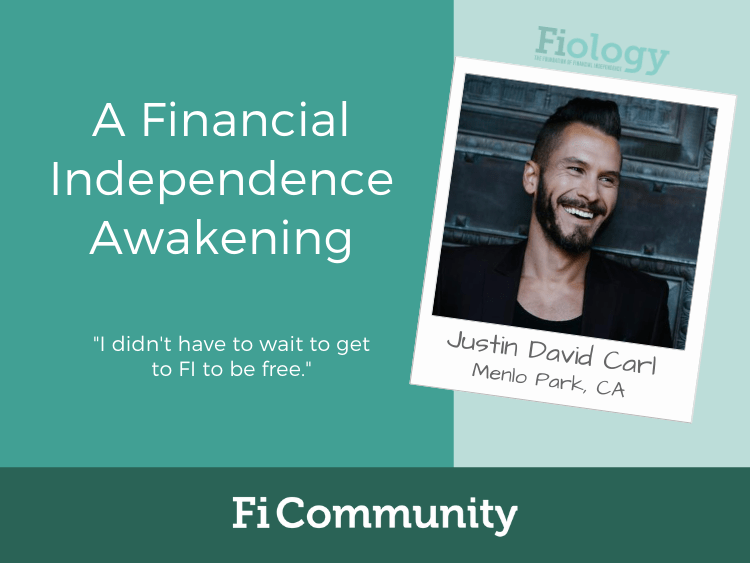 From Financial Ruin to Recovery
My Financial Independence (FI) Awakening was born out of financial ruin. I was 6 years behind on my personal taxes and had $40K worth of debt weighing down on me. I felt ashamed. I was beyond frustrated with my financial position to the point that I mostly tried to avoid it.
I had recently returned to finish my degree at Stanford after leaving it undone for 8 years and was in the first couple of years of building an exciting new Stanford Startup, Garten (formerly Oh My Green), in the food, wellbeing, & tech space as a founding team member.
Prior to returning to Stanford, I had been making boatloads of money with a successful career in Hollywood Nightlife. Unfortunately, I was also spending most of my money to look the part as so many do in the City of Lost Angels.
So when I came back to Stanford to finish my degree & find more meaningful work I took a year off from earning money and began burning through the money I had saved. I was still spending like I was working. I was about as financially unsavvy as one could be at that point.
My partner moved up from LA a few months after I came back to Stanford. I somehow convinced her to put me on her credit card. She was in the process of finding work up in the SF Bay Area and I had recently embarked on my Stanford Startup journey which wasn't paying me much. We had less money coming in than we were spending.
In short order, we racked up high-interest credit card debt fast to the tune $20K+. And I still had $20K worth of student loan debt from the first time I went to Stanford (2002-2006).
It was bleak. We both stressed a lot about money.
Eventually, Garten started getting legs and making money and I found the courage to start working on getting my taxes cleaned up.
Financial Inspiration and Motivation
It was July of 2017 and I was frequently listening to the Tim Ferriss Podcast at the time and discovered MMM during Mr. Money Mustache — Living Beautifully on $25-27K Per Year (#221). While listening to the podcast episode, I definitely sensed a whole new way of living/thinking/being, but I wasn't quite ready. However, a seed had been planted. And slowly it grew.
A few months later while still working through getting my taxes cleaned up I figured I needed some financial inspiration to get it complete so I finally googled Mr. Money Mustache and the first article that popped up was The Shockingly Simple Math Behind Early Retirement.
I read the article & it hit me like a lightning bolt!
"If I had known this during my time in Hollywood Nightlife I'd be a multimillionaire and I'd be FI! And I'd be FREE doing whatever I wanted however the heck I wanted! " I thought to myself.
This was my pivotal transformational moment. This was my FI Awakening.
From that moment on I dived deep into the world of FI, consuming blogs and podcasts with a fury of interest in personal finance unknown to me before. I woke up every day and read at least one Mr. Money Mustache article starting at the beginning.
I literally spent the day getting ready while listening to the ChooseFI Podcast along with other FI Podcasts I could find. Any time I could listen to a FI Podcast I would–commuting, cleaning up the kitchen, walking the neighborhood, etc. I tore through ChooseFI as well as the podcasts of the Mad Fientist & Paula Pant's Afford Anything.
I was so into FI that I wanted to create a local group of FI friends and community so along with Anna of Garlic Delight as my co-host, we started a Financial Independence Meetup Group that had its first meetup on Stanford campus in November in 2017.
Financial Independence became all-consuming, to say the least. I'd never felt so inspired and so motivated to take back control of my life. And as I learned about FI I took action every week to truly get myself on the path to FI.
Even before I discovered FI or MMM I had told myself I was sick of not having anything to show (financially speaking) even though I had been making really good money for years. So as soon as I had a steady paycheck coming in again from my Stanford Startup I did my best to save, save, save.
I like to think my Higher Self was ready & preparing for FI before I even consciously knew what it was.
Not too long after starting the Financial Independence Meetup Group, I read Mr. Money Mustache's News Flash: Your Debt is an Emergency article and I realized that I had been bleeding money for years with $20K in high-interest credit card debt and another $20K in student loans.
Debt-Free and Community-Rich
In one weekend I paid off both debts and was debt-free for the first time in over 15-years!!
Sharing that I had finally cleared my debt with my FI Meetup Group was one of the proudest Financial Moments of my life.
At the same time, I finally got completely caught up on my taxes. I too shared this with my FI group and it felt so good!
I honestly used our local FI Meetup Group as group therapy for financial recovery. Looking back I now realize that was an instrumental part of both my inspiration to take action every week/month as well as an integral aspect of my financial healing. Knowing I had a meeting each month where I could share my FI progress was a massive motivator. And no matter where any of us were on the FI Journey our FI Meetup Group was always excited to hear one another's progress updates, answer questions, provide resources & education, consider multiple viewpoints and really empower one another on the FI Path in countless ways.
With my debt paid off, my taxes caught up & my net worth steadily rising month over month I felt more free & empowered than I had ever before.
In Love and Money
Though things were going great personally, there would be plenty of relational turmoil with my partner, Carly Lyn Wise, before we got aligned on FI.
At the beginning of my FI Journey, Carly patiently put up with me while I went on a frugality craze. I'd be lying if I said we didn't have a lot of FI breakdowns as I tried in vain to shove FI down her throat.
Eventually, I invited Carly to go to CampFI with me. Luckily, she agreed and it was there that the FI way of living started to authentically resonate with her. She was able to connect with Paula Pant and meet other people like her that we're doing FI in ways she could really relate to. From here on out she really started to find her own path to FI.
After CampFI we found our FI footing together. We learned that we both had our own versions of FI that worked for us and that it was okay for me to be a bit of an extremist while she approached it in her own way. And as long as we were on the journey together that's all that really mattered.
As our relationship around Money & FI stabilized additional layers of my Financial Independence Awakening began to occur.
One of the biggest FI ripple effects is that it empowered me to actually realize I was living my dream life.
Financial Independence Brings Freedom and Empowerment
For most of my life not only had I dreamed of going to & graduating from Stanford, but for so many years I had dreamed of building & leading a Stanford Startup.
When I discovered FI and really began to put my financial house in order the sense of freedom & empowerment around my finances finally allowed me to realize just how much I love & believe in my work, my career, & my company.
Before FI I was constantly complaining to my partner about how I wasn't sure if this Stanford Startup pursuit was what I really wanted or should even be doing with my life.
Once I understood what my FI goal was I was like, "Holy shit! Not only do I love & believe in the work I do, it is powering me to FI!"
FI helped me realize that "Freedom" is my top personal value and that having a goal, a direction, and a purpose behind my money-making endeavors makes me feel freer and more motivated than I had ever felt before.
As I got closer to reaching FI I realized I'd be totally okay if my Startup didn't make it and instead I could just play full out, give it my all, and whether or not if it worked out I'd be totally okay, because hey, I had FU-Money so why not enjoy the Adventure!
Having that sense of financial & career freedom empowered me to truly feel like I was living on purpose to a degree never realized before.
As these thoughts and feelings culminated I realized that not only could I pursue FI doing work that I love & believe in that brings much satisfaction, I could also feel & be as free as I wanted during the whole journey.
I didn't have to wait to get to FI to be free.
Since that realization, my modus operandi has been, "to experience as much fun & freedom as possible AND to live with purpose & presence while on the journey to FI."
November 2020 will mark 3-years on the path to FI and I've been working diligently to live as if I was already FI–living the life I've always dreamed of each week.
It is my goal & mission to truly live a life worth living for! And in the process inspire others to do the same!
I will not wait until I reach some financial goal (currently: Fat FI in the Bay Area) or career goal (my company goes public) or reaching any of my other big goals & dreams to truly live a life worth living for!
Life is only lived in the present.
We can dream of the future, plan for the future, and learn from the past, but let those be light posts that allow us to see more clearly & empower us to live more fully in the present moment of each day.
I love connecting with people from all walks of life and I keep a blog at AlchemizeLife.com that shares more about my FI experience along with other aspects of positive transformation (mindset, fitness, & more) but I am most active on Instagram (@justindavidcarl).
If you'd like more insights into my own personal Financial Independence journey, check out these articles:
By Justin David Carl of www.alchemizelife.com