Bad Habits – Break Them Before They Break You
May 18, 2018

April 9, 2021

/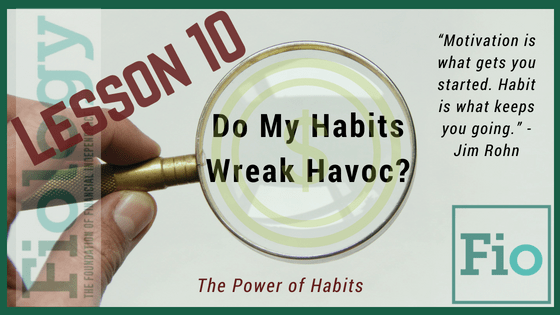 Bad habits need to be identified, examined, and dealt with.
You know bad habits can result in increased stress, anxiety, and health issues. We all exhibit behaviors or do things we know aren't good for us. We may even justify them in some abstract way but deep down we know our justifications don't hold up when challenged by logic.
You've chosen to pursue Financial Independence. You have decided to take ownership and responsibility for your future. That means believing that you have the ability to take control of what you do every single day.
If we focus on our daily actions, or inactions as the case may be, and determine the effect of those actions, we have a good chance to reduce or eliminate our bad habits. Over time, the implemented changes make our journey more effective and enjoyable.
The mind-body connection is remarkable. Before the research, I understood the basics of the habit loop including the cue, routine, and reward. But, as it turns out, there is much more to understanding and altering human behavior.
Good or bad habits do not develop overnight.
They became what they are over long periods of time. We may not even be aware of them or their negative impacts. It may take a while for good habits to take over but if we want to live more intentional and fulfilled lives, we need to scrutinize our practices, patterns, and routines and make real changes.
Unlike when we set up automatic payments, this isn't something we can put on autopilot. With the information found in this lesson, you'll surely learn about the power of habit and be motivated to take positive steps to a healthier and happier you.
Read:
Watch:
Listen:
Take Action:
Based on some of the ideas presented in this lesson and your experience, select 3-5 behaviors or actions that you want to initiate or change. Develop a plan you believe will result in the positive changes. Execute the plan and record your progress daily. Include challenges, setbacks, alterations to your plan, progress, and the effect it has on your goals. If inclined, share this information in the comment section below. We can all benefit from real life success stories.

If you are looking for a habit tracker app to promote good habits and eliminate bad habits, I have personally tried and can recommend Habit Share. The app is intuitive and efficient. You can share your progress and send messages to a friend or accountability partner. It can be found in the Play Store for android and in the App Store for iPad and iPhone. This app is free.
I recommend you order, read, and keep the following two books on your shelf for reference.
Additional Resources:
Quote:
"Motivation is what gets you started. Habit is what keeps you going." – Jim Rohn