Types of Retirement Accounts to Retire Early
May 13, 2018

April 9, 2021

/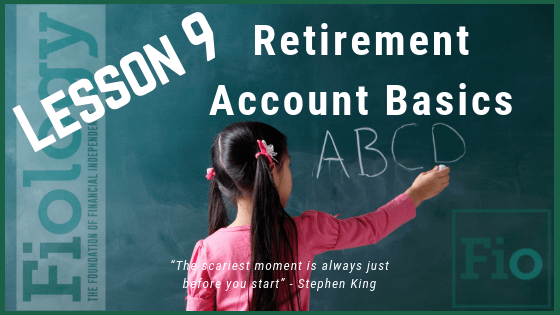 What types of retirement accounts can you contribute to?
The types of retirement accounts you will use to achieve Financial Independence depends on what is available to you. Are you in the military? If so, you have the Blended Retirement System (BRS). Are you in the corporate world? If so, you likely have a 401(k) option. If you are a teacher or self employed, you have other options.
There are different types of retirement accounts and we don't have access to all of them, but most employees have the ability to initiate and contribute to a Traditional IRA and/or a Roth IRA.
It is important for us to determine what plans are available to us, discover how we can initiate them, and then take action in order to maximize their performance within our retirement planning.
In this Fiology lesson, we will discover much of what we need to know about retirement accounts.
Types of retirement accounts include:
Roth IRA

Traditional IRA

SEP IRA, 401(k)

Solo 401(k)

403(b)

SIMPLE IRA

Thrift Savings Plan

HSA

and more
It can be overwhelming. Once you determine what accounts are available to you, it's recommended to focus on those, for now, to help avoid getting overwhelmed or confused. After spending some time learning about what you have available to you, take action. Know what you are invested in and how much you have invested in each account.
Investing in these accounts can have many advantages that can support your Financial Independence journey.
Read:
Listen:
Watch:
Take Action:
Visit the ultimate authority of the

Types of Retirement Plans

at the IRS.gov website. Again, for now, only focus on those accounts that you have determined are available to you. While simply hearing the term "IRS" usually brings tension, their website is a great resource. Click on a few links during your visit.

If you already contribute to your 401(k) at least up to the amount to receive the maximum matching contributions, consider opening a Roth IRA or a Traditional IRA with Vanguard. Do your own research on investment options. A recommendation depends on the amount of funds you have available when you initiate your account. If you have $1K to invest, consider a Target Retirement Fund or VTI. If you have $3K or more to invest, consider VTSAX. There are many comparable low-fee options offered by other fund companies. Please do your own research and invest only when you have educated yourself enough to be comfortable. If you have questions specific to your circumstance, please join the The Fiology Community Facebook Group and ask questions there. Each person's situation is unique. Do not take the information on this page or the links associated as gospel or directive. Learn as much as you need to responsibly take positive action to achieve Financial Independence.
Note: If determining to invest between VTI or VTSAX, consider that you'll have to manually make periodic purchases of VTI from within your Vanguard account. If you want to automate periodic purchases, then consider VTSAX. The underlying investments are nearly identical.
Additional Resources:
Depending on your chosen profession, you may have unique accounts available to you.
Types of Retirement Accounts for Military or Federal Employees
Retirement Accounts for Teachers, Nonprofit Employees, or Ministers
Retirement Accounts for Self Employed
Quote:
"The scariest moment is always just before you start." – Stephen King