Buying a Section 8 Rental Property in Little Rock
January 27, 2019

April 6, 2021

/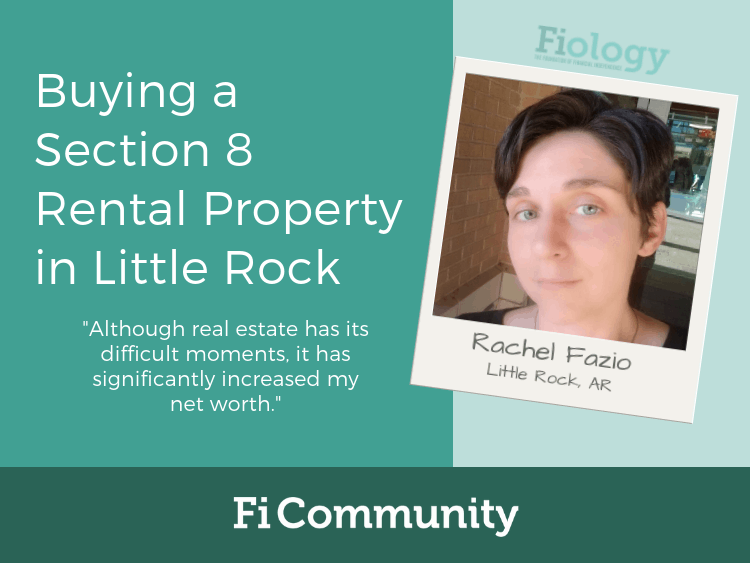 When I graduated from my various professional programs and got my first "real job," I knew I needed to start saving for retirement. I bought a home, but due to my employment situation, I didn't have access to any employer-sponsored retirement plans. Instead, I tried to max out a Traditional IRA each year. When I took my next job, I was much more interested in personal finance and FI specifically. Luckily, I had access to good retirement plans in that position….but I kinda hated that job.
I started looking at real estate as a way to expedite my exit from that place. After several months of study, I jumped in.
I had a long-term disability (LTD) plan that could replace my income if I had an accident or found myself unable to work. The cost was about $40 a month. My first goal with real estate investing was to produce enough passive income that I could get rid of that plan. I estimated this would take several years and that my student loans should be paid off by that point, and I'd effectively be FI. That was basically the 5-year-ish plan.
The Real Estate Backstory
In order to replace my income, I knew I'd have to invest for cash flow, not appreciation. Based on my research, I knew "Class C" properties (i.e., those in not the best neighborhoods, more likely to have a payday loan place than a Starbucks on the corner) would cash flow the best. I also knew that given my background of working in various psychiatric and correctional facilities, not much could scare me. So Class C it was. After more research, I was willing to take Section 8 tenants. I took the necessary classes, did all the paperwork, and got down to business. I had initially planned to use property management, but couldn't find a manager with decent reviews in the area. Ultimately, I decided to self-manage.
The Deal
I bought a package of duplexes for my first deal, which may still be my best deal to date. (It's hard to get a great deal the first time around, so be sure to do your homework.) I looked up the property on our county real estate records database online. It turned out that the owner had a total of 12 rental properties. I noticed she had another unit for sale, but it wasn't as sweet a deal. The first set of duplexes I bought from her met the 2% rule* with below market rent.
*Note: Rental houses likely will cash flow if they hit the 1% rule. This means that the rent charged is equal to 1% of the purchase price for the home. If you buy a $100,000 house, you should be getting at least $1,000 a month in rent. Those duplexes were less than $100k, and they had rents over $2,000/month
My first step was to raise the rents to 3% pretty quick to match what the market would bear. In the interest of diversification, I decided to look at a single-family house that the original seller had for sale as well. She took good care of her properties, and hey, maybe I could pick up the rest of them at some point as well, off-market. (I later did buy another single family home (SFH) from her off-market, woo! That's a story for another day.)
This house was in the southwest part of Little Rock, Arkansas. It had 3 bedrooms, 1 bath, a carport, the exterior was cute and it had a huge back yard. Admittedly, the crime rate there was high, but the neighborhood was acceptable. The HVAC unit was still in the backyard, the windows were there, and the door hadn't been kicked in – it was fine.
The listing price on this house was $57,400. I knew the seller was motivated because of the other deal. I made an offer of $50,000 and it was accepted without a counter. (I didn't want to offend her by going any lower. My aim was to grow the relationship and work with her to purchase other houses.) The inspection was fairly clean. After purchasing the home, I had to do less than $500 in total repairs to have it rent ready. (I fixed a leaky faucet and had a cracked window pane replaced. It had fresh paint, refaced cabinets, and new vinyl plank floors.)
I immediately listed the house for rent at $750, which was market rent for that neighborhood (and 1.5% of the purchase price). After several good showings, I ended up finding a qualified Section 8 tenant for the home. Her income was slightly lower than what they wanted for $750 rent. They asked me to go to $740 and I agreed. (As it turned out this proved to be largely irrelevant because she paid late most months, which incurred a $25 late fee, so effectively rent was about $760.)
She stayed in the home for the 12-month lease plus 1 additional month. She left the home in good shape with normal wear and tear. When she left, her deposit covered the outstanding rent as well as some repairs. The home was clean and ready to rent again. Because of the vacancy, I did make sure the trash was collected on a few occasions and that the lawn was mowed after growing a little long.
At the time, I knew another investor who was looking to buy a rental. They didn't have a lot of money to put down. Instead of re-renting the home, I made a deal with him. I offered owner-financing with a low down payment, an interest rate slightly higher than current bank mortgage rate, with a 5-year balloon payment, and some profit upon cash-out.
The Math
The numbers for this 14-month period were as follows:
| | |
| --- | --- |
| Item | Cost |
| Initial Purchase (15% down + closing costs) | $8,598.34 |
| Total expenses (after initial investment) | $6,167.53 |
| Utilities during vacancy | $199.95 |
| All repairs & maintenance (Lawn included, annual termite contract) | $967.43 |
| Property Taxes (Yes, really. One benefit of Class C properties is very low property tax.) | $344.40 |
| Insurance (Insurance is also low due to a fairly low insured value. This is ACV not replacement.) | $665.75 |
| Mortgage payments | $3,990.00 |
| | |
| Total Income | $11,139 |
| Rent collected (with late fees) | $10,139 |
| Installment sale down payment | $1,000 |
| | |
$11,139-$6,167.53= $4,971.47
If this $4,971.47 was averaged out over 12 months, the annual profit would be $4,261.00. This would represent a 50.44% return on the initial investment.
($8,598.34- $4,261.00)/$8,598.34 = 50.44%
A few things this scenario doesn't take into account are:
Some of those mortgage payments go to the principal (woo equity!)

I use a mail handling service and pay a small fee to have a formal mailing address and have an accountant to do my taxes annually. These are business expenses, and they are spread between the two houses. I expect this cost per house to go down each year as I add more homes to my portfolio.

I didn't use a property manager. Always account for a 10% property management fee when running your initial numbers. With formal property management, this house still would have been profitable.

Due to the thorough home inspection, this house happened to have no cap ex (capital expenditures; major upgrades like replacing a roof). There were very few repairs, several of which I did myself. (I had to change a toilet flapper; no biggie.)

These numbers don't formally account for a vacancy, but note there were a few weeks of vacancy built in at the initial purchase of the house. This includes the time to show it, check the applicants, and then wait for the tenant to move in. That rent collected over 14 months represents approximately 13 months of collected rent.
Over time, capital expenditures and additional repairs would have added more variability to my costs, although over time the rent would also go up. With real estate, the numbers can be a constantly moving target.
The Bigger Picture
This house represents one of 9 properties I currently own. I owner-financed almost all of them. My personal residence is one of those 9 and I AirBnB that home when I travel. I am aiming to close on a package of 4 properties with a partner soon. He will be local to help with the management. However, we are also going to audition a property manager on two of the properties with the long-term goal of finding a competent property manager. If this works, this will allow me to hold more rentals.
Although real estate has its difficult moments, it has significantly increased my net worth. And when some of these owner-financed deals get cashed out, it will completely eliminate the remainder of my student loan debt. Real estate has meaningfully expedited my path to FI given my late start because of the additional years and expense of schooling.
Key Takeaways
Do your research when starting to consider real estate.

Be kind in business. Rachel knew that if she put in an offer that was too low, the owner might be offended. This could hurt her ability to do future deals with the owner. She still got a good deal, her offer was accepted, and she now has a connection that can benefit her down the road.

Do the math. Will your potential rental meet the 1% rule at a minimum? Have you accounted for a 10% management fee and repairs?

What is your goal for real estate investing? Know your goal when you start and it will help guide decisions.
By Rachel Fazio