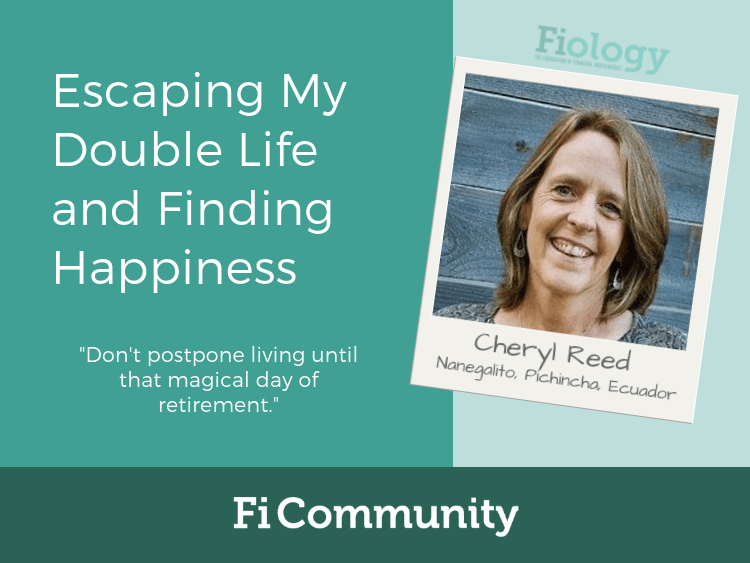 ESCAPING MY DOUBLE LIFE AND FINDING HAPPINESS
My last day working for "the man" was two weeks ago and I am now officially free to lead Above the Clouds Retreats in Ecuador. What a beautiful word—free. I wish I could say I am completely retired, but I still need an income stream. Rather than going to work every day though, I have now become my own boss as I open my guest house in Ecuador, South America.
I have been in search of freedom since the first time I toured a 24-acre farm that was for sale in the subtropics of Ecuador back in 2002. It was love at first sight—lush, rolling green pastures surrounded by huge ravines, and snow-capped mountains in the distance. It was one of Mother Nature's finest works of art. I bought that farm and I had two years of savings to tide me over until I found a way to stay for good.
I began the journey to make an income. Over the next 17 years, there were dairy cows, a fruit tree plantation followed by the planting of 6,000 coffee trees and none of those projects made enough to even cover my farm hand's salary.
Living the Dream, Half the Time
In order to finance those ventures and put food on the table, I began a double life. Not the scandalous kind with two husbands, but rather two countries. I lived six months of the year in Ecuador and six months of the year in the States where I worked as a Physical Therapist.
As far as jobs go, it was pretty good. The first time someone walks after recovering from an injury or an illness is something that chokes me up every time. It was still a job though. It came with rules, bureaucracy, and a 9-5 schedule. It felt confining. It always left me thinking there had to be more. The other six months of the year I was experiencing one adventure after another as a machete-carrying Gringa who spoke broken Spanish.
Back then, I didn't know about Financial Independence (FI). But, working full-time in the U.S. for 10 years to get to FI was not an option. I couldn't leave my home, my animals, my friends and the life I loved for that long. I lived more in one week on the farm than in six months in the States. The farm was my "why" and it gave me the motivation and drive to find a way to stay.
I always thought about hosting retreats and sharing Ecuador with others. I was into finding out what made us happy and I was a self-improvement junkie. As part of the retreats, I envisioned a guest house on the last pasture of my property. There was a stunning 360-degree view in that pasture. I put that dream away because I thought there was no way I would ever have the money to build such a house. However, I could still host retreats staying at other venues around Ecuador and that is how I stumbled into the FI world.
Financial Independence Chautauqua is Born
Jim Collins, aka jlcollinsnh, contacted me about being a speaker at one of my retreats. He could add a financial component. I asked myself, do finances and happiness really go together? I wasn't sure, but I always opened every idea door that was presented to me. That is how the FI Chautauqua was born.
Opening that door brought amazing FI people to Ecuador along with another speaker, some guy who called himself Mr. Money Mustache (MMM). MMM, also known as Pete Adeney, hatched another idea after visiting my farm and presented it to our first Chautauqua group in 2013. It was called The Waterfall Project because Pete thought it would be really cool to own the rights to my neighbor's farm which was for sale (and it had a waterfall.)
Six people agreed with that coolness factor and contributed. The plan changed a bit and it ended up turning into a guest house on my last pasture. Yes, the one I thought I would never have the money to build. Some dreams never die. I combined those donations and made a sacrifice by working longer in the U.S. My plans for a tiny guest house morphed into a five-bedroom, true sanctuary.
Don't Wait for Retirement to be Happy
I am now free, on my farm, surrounded by my dogs and cats, planning wonderful retreats and trips for people to share in the beauty and peace of the farm. This voyage of living in two worlds and spending time alone in the middle of nowhere came with some life lessons that are very applicable to the FI world and the world of humans.
Don't wait for retirement to be happy. Happiness is a state of mind, not a destination. If you weren't happy before retirement, you won't be happy after. I lived in paradise, but paradise ain't paradise if you don't feel like it on the inside. I needed to do a lot of reading and working on myself to improve my happiness levels. Check out Marci Shimoff's book,

Happy for No Reason

and Sonja Lyubomirsky's

The How of Happiness

. They can show you how to do that.

There is no perfect life. You may be thinking, wow, what a dream life living on a farm. (Or fill in your idea of what would be a perfect life.) We all secretly hope that if we lived in a specific place or had some great

side hustle

, that everything would be perfect. There are a lot of great things about my life and I love it immensely, but the farm is in the real world. Sometimes the power goes out for a long time. I can go for days without much human interaction. I am exposed to a lot of poverty and sadness. Life will always bring you challenges. Retirement will not be without problems. Work won't be one of those problems, but there will be others.

Find the things that make your world make sense. It's different for everyone. The farm gave me a gift in showing me that I loved the outdoors, the views, and to write. My life needed to include animals. I needed to have projects to work on. I needed to help others. I would be very sad if I lost the farm, but each of those things can be replicated somewhere else.

Find out what you are passionate about now and start incorporating those things into your life. If I had to do it over again, I would have participated in life more while in the States. I should have been around animals. I should have gone outside more. I should have volunteered. Look into what you love to do, and start doing it. Don't postpone living until that magical day of retirement.

Sitting in a hammock is fun for a few days, but not for the rest of my life. It didn't do me or the world much good. I needed a purpose. My first purpose is sharing Ecuador with others. My second and greatest purpose is to be of service. Here on the farm, I saw poverty every single day. As I built my amazing guest house, I watched my neighbor walk by with his donkey to bring supplies from town to his no electricity, no running water home. Right next door. It felt overwhelming sometimes. Many years back, I started my own sort of foundation to make the world a little more even. I call it Project One Corner. I help one person or one family at a time in my little corner of the world. Ten percent of any money I make in Ecuador goes directly to fixing houses, buying motorcycles so someone can get to work, or paying education costs. Giving people opportunities and basic human rights. And it just so happens that in the happiness research, helping others contributes to happiness.

And finally, keep working towards your dreams. Open every door. You may not know how your dreams will be accomplished, but they never will if you don't define them and keep taking steps towards achieving them. The path to those dreams is exciting, challenging, and worth every step.
By Cheryl Reed of abovethecloudsretreats.com
Fiology.com is an educational resource designed to teach Financial Independence (FI). We scoured the internet to find content from the best and brightest of the FI community and created lessons covering the critical concepts.
Get free weekly Fiology lessons straight to your inbox!