Ethos, Pathos, and Lagos: Master the Art of Ad Analysis for Smart Spending
November 6, 2023

November 6, 2023

/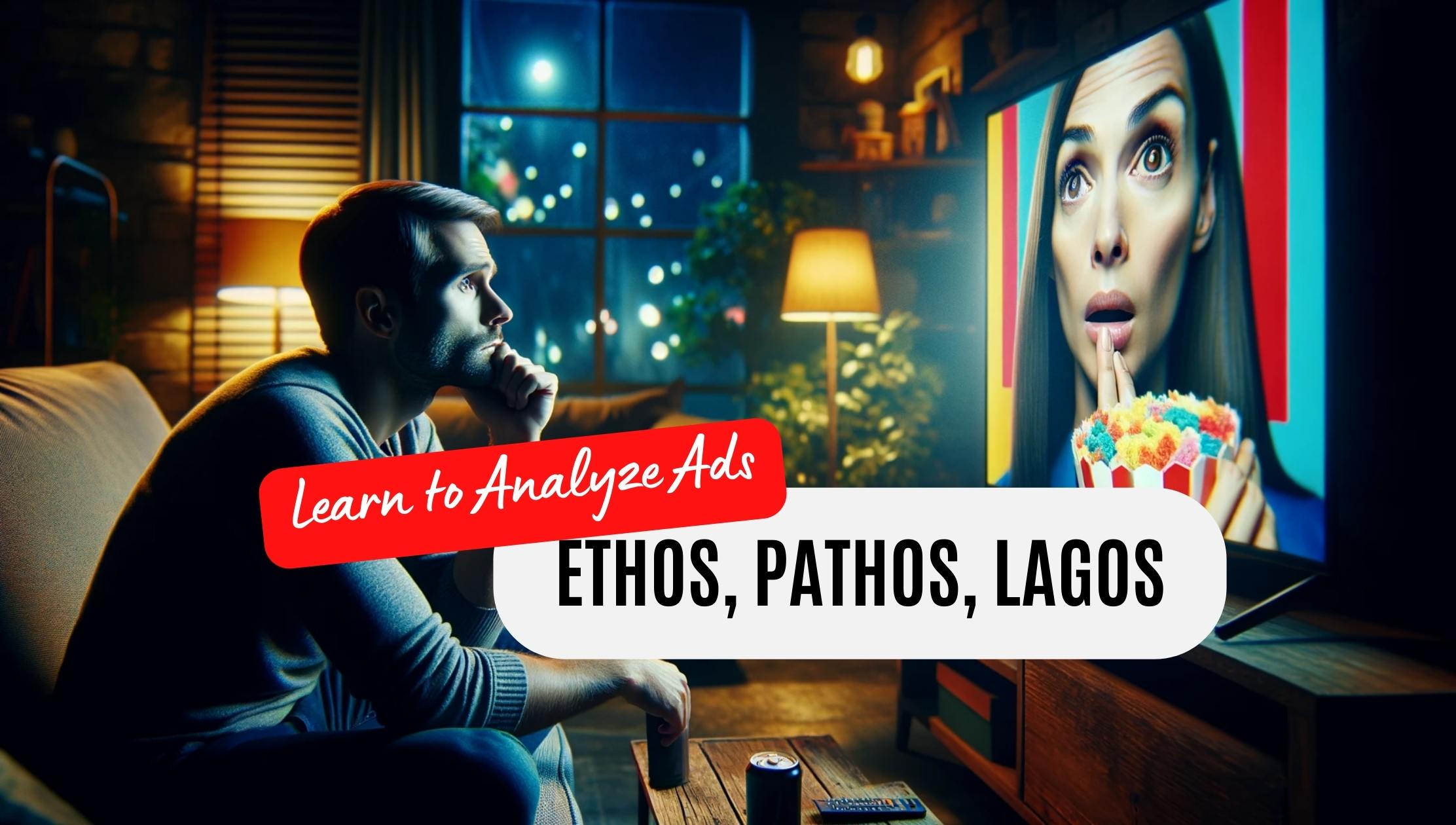 Understanding the roles of ethos, pathos, and lagos in advertising is like having a map in a maze, guiding you to make decisions that align with your values, rather than succumbing to the crafted appeal of commercials.
In a world where commercials are omnipresent, the ability to critically analyze their content is not just an intellectual exercise—it's a financial defense mechanism.
These seemingly benign advertisements are, in fact, sophisticated psychological strategies designed to influence your spending habits, often to your detriment, and delaying your crossing of the financial independence finish line. Let's explore the tactics employed by commercials and equip ourselves with the knowledge to make empowering financial decisions.
Key Takeaways about Ethos, Pathos, and Lagos
| Ethos | Pathos | Lagos |
| --- | --- | --- |
| Builds credibility through trust and authority | Evokes emotions to establish a connection | Appeals to logic and practicality |
| Utilizes endorsements and qualifications | Plays on desires, fears, and humor | Presents facts, statistics, and direct comparisons |
| Encourages respect for reputation and expertise | Seeks to influence through emotional narratives | Aims to persuade with rational arguments |
Ethos Pathos Lagos
The Philosophy Behind Ethos, Pathos, and Lagos
In the pursuit of understanding, we often turn to the ancient roots of philosophy, where the principles of ethos, pathos, and lagos first took shape. These concepts, foundational to the art of persuasion, were extensively explored by Aristotle, who believed that effective communication was a balance of credibility, emotion, and logic.
Ethos: The Ethical Appeal
In philosophy, ethos represents the cornerstone of credibility and ethics. It's not just about the character of the speaker; it's a broader appeal to the moral compass that guides our actions and words. Ethos demands authenticity and integrity, compelling us to evaluate the trustworthiness of the messenger as a reflection of the message. It's a reminder that the power of persuasion should be rooted in a foundation of ethical conduct and respect for the audience.
Pathos: The Emotional Appeal
Pathos reaches into the depths of human emotion, tapping into the well of feelings that drive our connections with each other. From a philosophical perspective, pathos transcends mere sentimentality and speaks to our collective capacity for empathy. It's the narrative thread that weaves through our shared experiences, drawing upon the poignant tapestry of life's highs and lows. Pathos calls on us to acknowledge and honor the emotional dimensions of our humanity, allowing us to communicate on a profoundly personal level.
Lagos: The Logical Appeal
Adapting lagos from the traditional term "logos," we enter the realm of logic and reason. Philosophy regards lagos as the structural integrity of our thought processes. It is the call to order within the chaos of information and argumentation. Lagos implores us to approach our dialogues and decisions with an analytical mind, seeking clarity and coherence. In the context of persuasion, lagos is the force that challenges us to sift through data and discourse, to arrive at conclusions that are not just convincing, but also rationally sound and intellectually robust.
In embracing the philosophical teachings of ethos, pathos, and lagos, we find a balanced framework for engaging with the world. These elements are not mere rhetorical devices but are reflective of the complex nature of human interaction and understanding. They encourage us to present ourselves authentically, connect emotionally, and think critically, whether we're crafting a message or deciphering one. This trinity of persuasion thus becomes a guiding principle, aiding us in navigating the myriad messages that vie for our attention and shaping the way we impart our own.
The Trust Factor: Ethos in Commercials
Building Credibility
Ethos is the ethical appeal, leveraging credibility to foster trust in a product. Commercials invest in ethos by showcasing trustworthy figures or emphasizing the brand's integrity and history.
Commercial Case Studies
Celebrity Endorsements: A commercial for a luxury watch brand might feature a renowned athlete, suggesting that the product is synonymous with excellence and achievement.
Expert Approval: Dental care ads often present professionals recommending a toothpaste, implying that the product is backed by scientific research and expertise.
Awards and Accolades: When a vehicle is highlighted as "Car of the Year," the award lends prestige and assures consumers of the car's quality and industry approval.
Assessing Ethos
Before taking endorsements at face value, consider:
The expertise of the person endorsing the product.
The relevance and context of awards and qualifications.
Potential biases in the endorsement.
The Emotional Connection: Pathos in Commercials
Pathos: Pulling Heartstrings
Pathos aims to strike a chord with our emotions, whether it's joy, fear, or nostalgia, to forge a personal connection with the product being advertised.
Emotional Encounters in Advertising
Heartwarming Narratives: Seasonal ads from a coffee brand may depict heartwarming family reunions, triggering feelings of comfort and belonging.
Fear-Based Appeals: Insurance ads often evoke fear of the future to compel viewers to seek protection for themselves and their loved ones.
Humor and Joy: A snack brand uses humor, associating its product with laughter and enjoyment to make it more appealing.
Navigating Pathos
When confronted with pathos in ads, reflect on:
The authenticity of the emotional appeal.
The potential manipulation of fears or desires.
The lasting impression of the emotional narrative on your perception of the product.
The Logical Argument: Lagos in Commercials
Lagos: A New Perspective
Lagos offers a logical structure to a commercial's narrative, highlighting practicality and reason to reinforce a product's appeal.
Logical Layouts in Commercials
Practical Solutions: Ads for a versatile kitchen gadget may highlight its utility and cost-effectiveness, appealing to the viewer's sense of practicality.
Statistical Evidence: Financial services might flaunt success rates or customer satisfaction, using data to establish credibility and reliability.
Direct Comparisons: Cleaning products often compare their effectiveness against competitors, emphasizing superior results.
Evaluating Lagos
When evaluating lagos in commercials, ask:
The clarity and relevance of the information provided.
The fairness and objectivity of product comparisons.
The real-world applicability of the logical arguments.
Analyzing the Subtle Language of Commercials
Commercials speak a subtle language designed to influence your subconscious. From the color palette chosen to the actors' attire, every detail is selected to convey a message and evoke a response.
Color Psychology:
Red: Often used to create a sense of urgency, commonly found in clearance sales or fast-food commercials.
Blue: Evokes trust and reliability; frequently used by banks and insurance companies.
Linguistic Persuasion:
Power Words: Terms like "revolutionary," "breakthrough," and "innovative" are designed to make products seem indispensable.
Urgency and Scarcity: Phrases like "limited time offer" or "while supplies last" create a fear of missing out.
Cultural References:
Trends and Pop Culture: Leveraging current trends or popular culture can make a product seem more relevant and desirable.
Decoding the Message:
To understand the true message behind a commercial, consider the following:
Analyze the Aesthetic Choices: Why were certain colors, sounds, or visuals used, and how do they affect your perception of the product?
Evaluate the Language: Are the claims being made substantial, or are they using buzzwords to generate excitement?
Contextualize Cultural References: Do the references serve a purpose, or are they merely there to draw you in?
Using Knowledge as Financial Armor
Armed with the ability to decode commercials, you can shield your finances from impulsive purchases that don't align with your financial goals. Knowledge of these tactics is akin to wearing armor; it provides protection, allowing you to navigate the barrage of commercials with discernment.
Creating a Critical Mindset:
Stay Informed: Keep abreast of common advertising tactics and psychological triggers.
Reflect Before Reacting: Give yourself time to think before making a purchase.
Educate Others: Share your knowledge with friends and family to help them make better financial decisions.
Aligning with Your Financial Goals:
Budgeting: Use your understanding of commercials to make decisions of how you budget money that reflect your true needs and aspirations.
Investing in Value: Invest in products and services that offer true value and align with your long-term financial independence. Quality over Quantity is an important concept to understand.
Mindful Consumption: Be a consumer who values quality and utility over marketing hype.
Are Commercials Effective?
Commercials that use ethos, pathos, and lagos are indeed effective; they wouldn't be so pervasive otherwise. They're designed to do more than just inform; they're crafted to entice, persuade, and even entertain. With the right mix of ethos, pathos, and lagos, commercials have the power to influence our choices and perceptions profoundly.
The Persuasive Power of Commercials
Commercials leverage a blend of storytelling, psychological cues, and targeted messaging to captivate their audience. Whether it's through an emotional appeal that resonates with your deepest desires or a logical argument that seems indisputable, commercials are meticulously constructed to be memorable and influential.
Questioning Commercial Effectiveness
To critically assess their effectiveness, consider:
The persuasive techniques being used and their impact on your decision-making.
Your own experiences with the product versus the claims made in the commercial.
The alignment of the commercial's message with your personal values and financial goals.
Conclusion: Embracing an Empowered Financial Outlook
As you explore the intricate dance of ethos, pathos, and lagos in commercials, you are demystifying the language of commercials and transforming your relationship with them. No longer passive viewers, we become active participants in our financial journey.
This awareness is not just about saving money; it's about reclaiming our financial autonomy, making conscious choices that lead us toward the ultimate goal of financial independence.
In a world filled with persuasive messages, let your newfound knowledge be the compass that guides your spending, ensuring that each dollar you part with is in service of a more secure and fulfilling future.