Generational Wealth Origins – Your Money-Savvy Family
September 16, 2020

May 15, 2023

/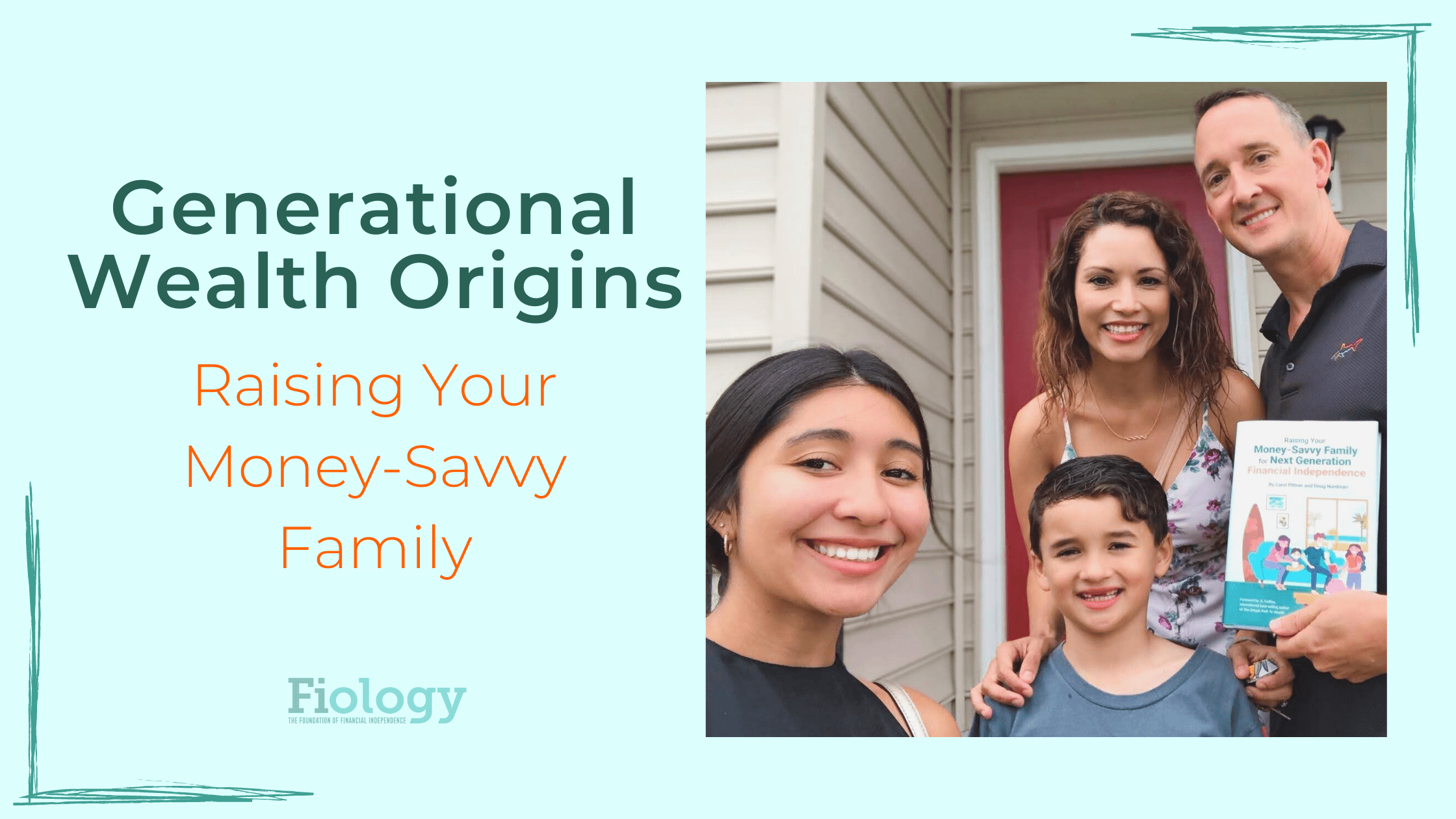 What is generational wealth? 
Generational wealth is defined as the value of assets passed from one generation to the next. It can include real estate, intellectual property, businesses, and/or collectibles. Why are so few in a position to pass down considerable financial resources to the next generation? And when someone has learned to build generational wealth, why does the value of that wealth usually dwindle over the next few generations? It isn't enough to focus solely on building enough wealth to pass down. 
What is legacy?
Legacy is defined as something transmitted by or received from an ancestor or predecessor or from the past. Generational wealth is only a portion of a legacy. Legacy also includes the influence and impact a person has, positive or negative, even after he or she is no longer around. The way we treat people, the lessons we impart, and the guidance we give are all included in our legacy.
Once you are well on your way to Financial Independence, it is natural for you to begin thinking about whether you will attempt to spend your well-earned wealth during your living years or transfer your wealth to the next generation. If you choose to spend every last dime you earned on golf, massages, and Mai Tais, you'll get no judgement from me, you earned that option.
If you do decide that you want to leave your wealth to those who will be sticking around, you'll discover many ways to do so. You'll learn about gifting, funding accounts for education, the latest on Roth IRA rules, trusts, and more. But the issue with all of these strategies is that they are usually executed later in life. 
Luckily, there is something we can do long before we reach the two comma club to prepare our next generation for an eventual transfer of wealth. We like to think our children will have the same (or better) financial mindset and skills we used to accumulate our wealth. Unfortunately that isn't likely to be the case if left up to chance. However, we can increase the probability of multi-generational wealth with intentional teaching inspiring intentional learning.
Raising Your Money-Savvy Family for Next Generation Financial Independence
Friend and mentor, Doug Nordman, aka "Nords" and his daughter Carol Pittner recently coauthored a book titled Raising Your Money-Savvy Family for Next Generation Financial Independence. The title implies you'll get practical advice and tips about how to teach your kids about money. After turning the final page you'll have more confidence in your ability to teach your child the most important money lessons that can lead to creating and maintaining generational wealth.
Carol graduated from Rice University with a degree in Civil Engineering. Like her father, she served admirably in the U.S. Navy. Carol and her husband recently welcomed their first child.
Doug retired from the U.S. Navy in 2002 at age 41. Since then, he has become an avid surfer and a champion of the Financial Independence (FI) movement. He authored The Military Guide to Financial Independence and Retirement and founded The-Military-Guide website where he helps military members and their families achieve Financial Independence and a successful retirement. 
Raising Your Money-Savvy Family for Next Generation Financial Independence is an entertaining recollection of, and reflection on, how two financially brilliant parents, Doug and Marge, taught their daughter, Carol, how to manage money, how to use money as a tool to create options, and how to create and manage generational wealth.
In the military we have something called a BLUF. It means bottom line up front. It is a brief statement that usually comes at the beginning of an email message so senior officers can get the gist before reading all the specific details of the message. Their time is  valuable, and so is yours. If I were going to capture the value of this book in one short phrase it would be:
Raising Your Money-Savvy Family for Next Generation Financial Independence may prevent your great-great-grandchild from losing the family fortune in the future stock market crash of 2121!
A Book About Parenting and Personal Finance 
In addition to how to teach kids about money, this book is about parenting, building strong relationships, and appreciating the transitions our children go through to become mature adults. Seeing the pride and respect that Doug, Marge and Carol have for each other makes this book even more rewarding.
As far as I know, the only other financial book by a father-daughter author team is Smart Money Smart Kids: Raising the Next Generation to Win with Money by Dave Ramsey and his daughter Rachel Cruze. I purchased and attempted to read Smart Money Smart Kids years ago. 
If deciding between the two, definitely go with Raising Your Money-Savvy Family by Carol and Doug. I believe you'll find it more practical, relatable, and relevant.
Major Topics covered in Raising Your Money-Savvy Family for Next Generation Financial Independence
How to introduce the concept of money to your child as soon as they stop eating it

Saving for your child's education

Teaching your child how to manage money, not just how to save it

How to give your child a positive, understandable experience with money

Why to consider privileges, rather than money, to reward good grades

Teaching your teen about investing

Dealing with brand names and peer pressure

Buying your child's first car

Taking advantage of the lifestyle options Financial Independence provide
A money conversation covering three decades
The back and forth volley between father and daughter provides entertainment and education. We watch Carol's money mindset mature from teething on quarters to achieving Financial Independence and focusing on family at the age of 27. And we observe Doug and Marge practicing positive and patient, but persistent, parenting techniques regarding Carol's financial education.
Doug and Marge inspired Carol by example. Carol tells the story of when she committed to her goal to one day achieve Financial Independence. She shares:
I was standing at the bus stop with my friends waiting to go to school, Dad would drive by in the family Taurus with surfboards strapped to the roof, merrily honking his horn and waving at me and my friends. […] I knew that if I wanted to go surfing every morning like Dad did, and not just on the weekends, I had to save a lot of money.
This is not an unbiased book review.
This is not an entirely objective review. I've known Doug a number of years now. We met at Camp Mustache in May of 2016. This event was my first formal introduction into the Financial Independence community. I brought my daughter, then age 13, along for the experience. Although Doug was widely known in personal finance circles at the time, I had never heard of him. I was just a FI fledgling.
One evening at the dinner table, he struck up a conversation with my daughter. I watched as Doug spoke with her as if she was his peer. He asked her questions and listened intently to her responses. He made money talk far more entertaining than I ever could. To this day, my daughter recalls that conversation fondly.
Our paths crossed many times over the years at CampFI events. Marge and Doug even hosted our family in Hawaii. I don't know that I've ever seen my wife and daughter happier than when Doug patiently spent a few days teaching them to surf at White Plains Beach. But that is just how Doug is. He's ridiculously smart, patient, and generous He just wants to see you succeed. And the apple doesn't fall far. Carol is equally exceptional.
The big takeaways
I am a father to a daughter who is currently in the teen-to-adult transition phase. It is calming to hear about the experiences of Doug, Marge, and Carol. They present their challenges and successes with humor and humility.
We've done a proficient job of teaching our daughter some significant money lessons and we think she is going to do just fine when it comes to her future finances. There is little doubt, however, that if we read this book and implemented its strategies a decade ago, the journey would have been less turbulent. Our now six-year-old son will benefit from our newfound knowledge and renewed focus. 
Initially, this article was intended to be a straightforward book review. I'd provide a brief summary of the book, highlight a few tid-bits of wisdom found inside, and let you know where you can learn more. But during my initial read-through, although I don't think it was intended by the authors, the theme of legacy surfaced and remained at the forefront of my mind.
Leaving behind wealth in order to provide security for future generations is a commendable goal. But what about all of the building blocks that created that wealth? Wealth is usually the result of education, planning, focused work, critical thought, and constant reflection. These are the skills Doug and Marge helped Carol develop over the course of a few decades. These are the skills that will help ensure wealth and legacy will last for generations to come. This book has inspired me to refocus on our children's relationship with money and our relationship with each other.
By David Q. Baughier of www.fiology.com