Graduation Gifts on a Budget: Meaningful Ways to Celebrate without Breaking the Bank
May 23, 2023

May 25, 2023

/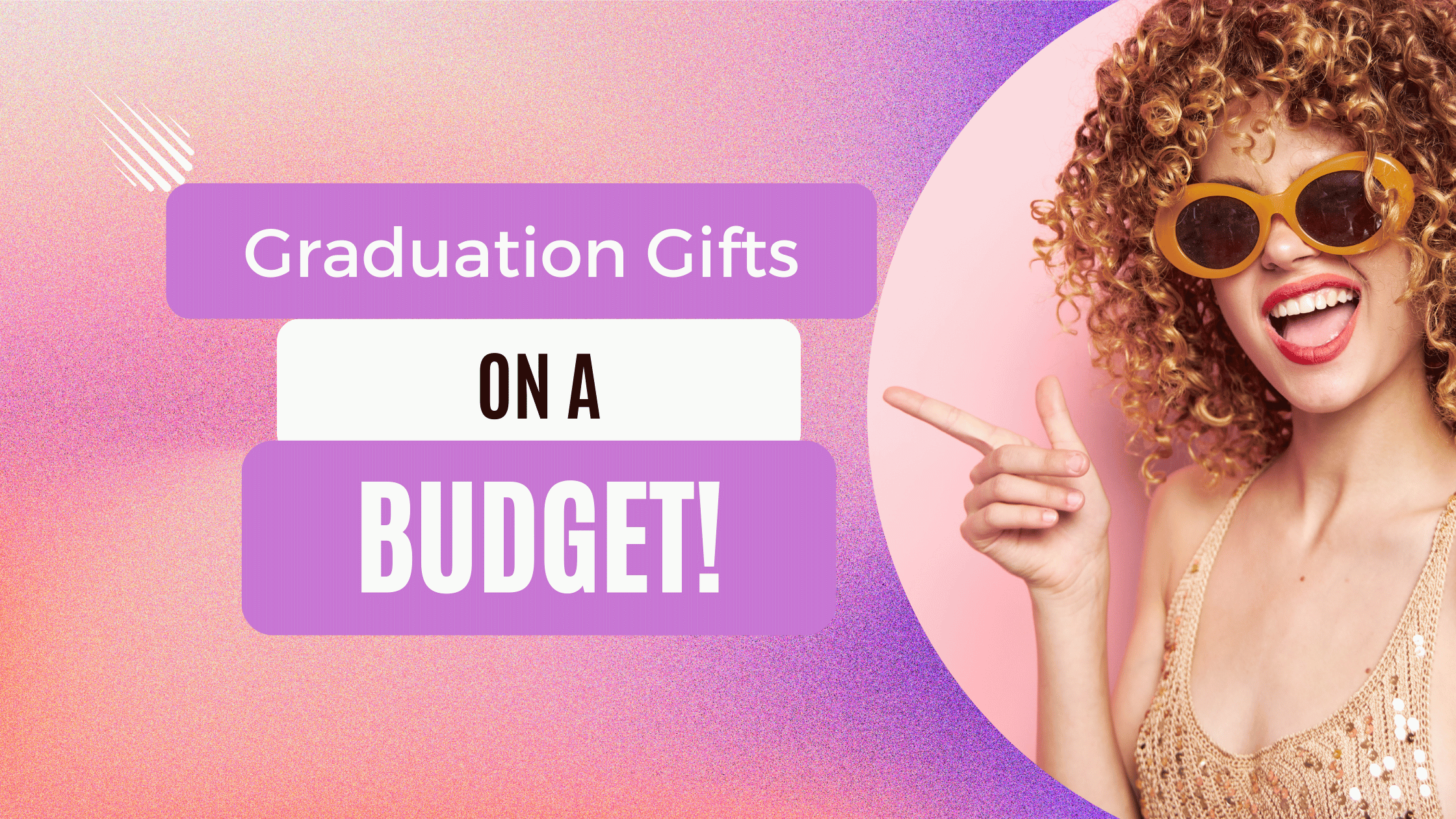 Searching for graduation gifts on a budget might seem like a daunting concept, but it doesn't have to be. Giving a gift to honor a graduate's hard work and accomplishments is a cherished tradition, and it doesn't need to put strain on your wallet.
Rising costs and financial constraints can make gift-giving challenging, but the value of a gift is not determined by its price tag.
This guide will show you how to balance affordability and thoughtfulness, ensuring your gift carries a meaningful message of congratulations without overstretching your budget.
Note: These are not affiliate links and I don't profit monetarily by including them in this article.
If you are personally struggling, these links may help you learn how to budget money and how to get out of debt and progress towards your own financial stability.
Now let's get on with the fun stuff, giving!
Why Graduation Gifts Matter
Graduation is a significant milestone in a person's life, marking the completion of an educational journey. Gift-giving during this time is not just about tradition, but also a way of celebrating the graduate's achievements.
The right gift serves as a tangible reminder of this milestone and the thoughtfulness behind its selection truly matters.
Challenges of Finding Graduation Gifts on a Budget
Financial constraints are a reality for many people, but a smaller budget should not prevent you from finding a thoughtful graduation gift.
A common misconception is that affordable gifts are less meaningful, but the value of a gift lies not in its price tag but in its relevance and sentiment.
Setting a budget and sticking to it is an important part of gift-giving, ensuring that you don't overspend while still finding something special for the graduate.
Tips for Finding Affordable Graduation Gifts
Research and Plan Ahead
1. Begin Your Search Early: Just as the proverb goes, "the early bird catches the worm", beginning your hunt for the perfect graduation gift well ahead of time comes with several advantages:
Spread out costs: Starting early allows you to manage your budget effectively by spreading your costs over time.
Take advantage of the best deals: With ample time at your disposal, you can wait for the best deals and discounts to pop up.
Avoid rushed decisions: An early start provides you the opportunity to explore a variety of options and make a thoughtful decision, rather than rushing and potentially overspending.
2. Make the Most of Online Resources and Price Comparison Websites:
Online marketplaces: In this digital age, platforms like Amazon, Etsy, and eBay offer a vast range of products at competitive prices, suitable for every budget.
Price comparison websites: To make sure you're getting the best value for your money, websites like Google Shopping, PriceGrabber, and Shopzilla can be invaluable tools. These websites allow you to compare prices from various online sellers and read product reviews, aiding your purchase decision.
Discount codes and coupons: Before checking out, it's worth taking a few minutes to search for additional savings on discount aggregators like RetailMeNot.
Factor in additional costs: When shopping online, keep in mind potential shipping costs and delivery times to ensure your gift arrives punctually and stays within your budget.
By incorporating these strategies into your gift hunting process, you can maximize your budget and find a meaningful graduation gift that won't break the bank.
Consider Personalized and DIY Gifts
1. Personalized Gifts:
Personalized gifts are a wonderful way to demonstrate thoughtfulness and effort. The bespoke nature of these presents often makes them more treasured than standard off-the-shelf items. Examples include:
Monogrammed Items: A personalized journal or a monogrammed item like a briefcase can be both useful and unique. These gifts carry a level of sentimentality that often surpasses their monetary value.
Custom Artwork: A piece of art tailored to the graduate's interests or hobbies can make for a memorable gift.
Book Lover's Delight: For bookworms, a custom bookmark featuring a favorite quote or their name could be a perfect choice.
Professional Presents: If the graduate is about to start a new job, consider gifting a personalized business card holder. It's a thoughtful gift that shows you're supportive of their career journey.
2. DIY Gifts:
DIY gifts are a fantastic way to show someone you care. They offer a unique chance to create something specific to the graduate's tastes or needs, and can be an economical choice. Here are a few DIY ideas:
Memories in a Book: Craft a photo album or scrapbook filled with memories from their school years. Websites like Shutterfly offer customizable photo book options catering to various budgets.
Homemade Crafts: If you're artistically inclined, making a homemade candle with their favorite scent or knitting a cozy blanket for their college dorm can add a personal touch to your gift. Websites like Pinterest provide a plethora of inspiration and tutorials for various DIY projects.
Culinary Creations: If you're a whiz in the kitchen, compile your favorite recipes into a homemade cookbook or bake their favorite cookies and present them in a custom cookie jar.
The essence of a successful DIY gift lies in aligning it with the graduate's interests and tastes. The time and effort put into creating these gifts often translate into a value that surpasses their cost.
Explore Practical and Functional Gift Options
1. Cater to the Graduate's Needs:
Graduation often signifies a significant transition in life, making practical gifts that cater to the graduate's new phase especially valuable. Consider these options:
First Apartment Essentials: For graduates moving into their first apartment, household items are a wise choice. A quality cookware set could be a wonderful addition to their kitchen, or a basic tool kit might prove invaluable for minor repairs or DIY projects in their new space.
Dorm Room Must-Haves: If your graduate is off to college, items that make dorm life more comfortable are ideal. A comfortable study pillow or a versatile study lamp could make studying more pleasant and effective.
2. Budget-Friendly Practical Gifts:
There are numerous practical gifts that won't stretch your budget:
For the Working Graduate: For those starting a new job, professional essentials like quality notebooks or a stylish pen set can make a big impression without a big price tag.
Tech Gifts: For the tech aficionados, a multi-port charging station could help them keep all their devices organized and charged. It's an affordable gift that they'll likely use every day.
Ultimately, the worth of a gift lies not in its price tag, but in its value to the recipient. A thoughtful, practical gift is likely to be appreciated and used frequently, serving as a meaningful symbol of their graduation.
Utilize Discounts, Promotions, and Sales to Discover Graduation Gifts on a Budget
1. Shop Smartly:
Sales events and discount codes are your budget's best friends. Many retailers, both online and in-store, offer seasonal sales that can reduce prices significantly. Utilizing discount code websites like RetailMeNot and Groupon can provide extra savings.
2. Stay Informed:
Subscribing to newsletters from your favorite brands or retailers gives you early access to sales and exclusive discounts. Similarly, following brands on social media (Instagram, Facebook, Twitter) can alert you to promotions, discount codes, or contests.
3. Membership Programs:
Consider signing up for rewards cards or membership programs. They often provide member-only discounts and reward points, which can offset their initial cost over time.
These strategies can help you find quality graduation gifts within your budget, showing the graduate how much you care without breaking the bank.
Creative Graduation Gift Ideas on a Budget
Affordable Gift Ideas
1. Personalized Gifts: Despite what you might think, personalized gifts don't have to be costly. Many online platforms offer a range of customizable options at affordable prices.
A custom name necklace or a personalized calendar with photos of memorable moments can make a meaningful and budget-friendly gift.
2. Practical Gifts: Practical gifts, especially ones that the graduate can use in their daily routine, can be both functional and affordable. For music enthusiasts or podcast listeners, a waterproof Bluetooth speaker can turn shower time into fun sing-alongs.
For the caffeine-dependent graduate, an insulated coffee mug can keep their early morning brew hot, even during long commutes or classes.
3. Unique, Thoughtful Gifts: A little creativity can go a long way in finding unique and thoughtful gifts that won't break the bank. If the graduate is an avid reader, consider a book from their favorite author.
Alternatively, put together a care package filled with their favorite snacks, a comforting blanket, or a scented candle for those late-night study sessions or relaxation time.
Remember, the value of a gift lies in its thoughtfulness, not its price tag. A well-chosen, affordable gift can bring as much joy, if not more, than an extravagant one.
The Versatility of Gift Cards and Experiences
1. Gift Cards as a Flexible Option:
Gift cards present an efficient solution when you're budget-conscious or uncertain about the graduate's personal tastes. They empower the recipient to choose something they genuinely desire or require.
Retail Gift Cards: Consider buying gift cards from widespread retailers like Amazon, which provide a comprehensive assortment of items to select from. Alternatively, a gift card to a cherished local restaurant or fashion store could be a personal touch.
Subscription-based Gift Cards: If the graduate is a fervent reader, an Audible gift card for audiobooks could be a delightful surprise. For the music lovers, a Spotify Premium subscription can offer endless hours of enjoyment. Moreover, film buffs might appreciate a Netflix gift card to enjoy countless movie nights.
2. Budget-friendly Experiential Gifts:
Experiential gifts create lasting memories instead of tangible items, varying from cooking classes to museum memberships or live concert tickets.
Discount Platforms: Websites like Groupon extend a variety of experiences at different price points, making it straightforward to find an affordable option. A paint and sip class could provide an enjoyable outing for an art-loving graduate. Conversely, an annual membership to a local museum could be a thoughtful gift for a history or art major.
Remember, the most appreciated gifts are not always the most expensive ones. Instead, they are the ones that reflect consideration of the recipient's interests and preferences.
Whether it's a versatile gift card or an unforgettable experience, your thoughtfulness will undoubtedly shine through your gift.
How to Make Budget Graduation Gifts Special
Presentation and Personalization
1. Creative Gift Wrapping or Packaging: The presentation of your gift can make even the simplest presents feel special. Consider using unique wrapping paper, decorative ribbons, or reusable fabric wraps to dress up your gift.
If you're gifting a book, consider wrapping it in a beautiful scarf that can later serve as a useful accessory.
For smaller gifts, a decorative gift box or a themed gift bag can add an extra layer of thoughtfulness to your present.
Alternatively, you can elevate your gift with a handmade card, available on platforms like Etsy, or even create one yourself if you're artistically inclined.
2. Handwritten Note or Thoughtful Message: Adding a handwritten note or a thoughtful message to your gift can make it all the more meaningful.
Whether it's expressing your pride in their achievement, offering words of encouragement for their future endeavors, or simply reminiscing about a shared memory, a personalized message can turn a simple gift into a cherished keepsake.
Memorable Gift-Giving Moments
1. Small Gatherings or Surprise Celebrations: Making the gift-giving moment a memorable one doesn't have to be an expensive affair. Organizing a small gathering or a surprise celebration can make the occasion unforgettable.
A backyard barbecue with family and friends can serve as the perfect setting for a casual and comfortable celebration. For a more tranquil setting, a picnic at a local park can offer a refreshing change and an opportunity for fun and games.
If physical gatherings are challenging, consider a virtual celebration. Organize a video call with loved ones, decorate your background, and make a virtual toast to the graduate.
2. Capture Memories: Remember to capture memories of the occasion through photos or videos. They will serve as cherished keepsakes for the graduate in the years to come.
You can consider hiring a professional photographer or just use your smartphone to take candid shots or record heartwarming videos of the celebration.
If you want to go the extra mile, you could create a photo book with pictures from the event, or even a customized video that captures the highlights of the day.
Regardless of the type of gift or the way it's presented, what matters most is the thought and care you put into choosing something that reflects the graduate's personal tastes and aspirations. This attention to detail is what transforms a simple gift into a heartfelt expression of celebration and support.
Giving Graduation Gifts on a Budget
Finding graduation gifts on a budget is not only feasible, but it can also be a fun and meaningful process. We hope this guide encourages you to explore these affordable gift ideas and remember, the most valuable aspect of any gift is the thoughtfulness and sentiment behind it.
Graduation is a time of celebration and achievement, and any gesture of support, regardless of price, contributes to the joy of this special milestone.