The Best High Paying Jobs Without a Degree
March 31, 2021

June 16, 2022

/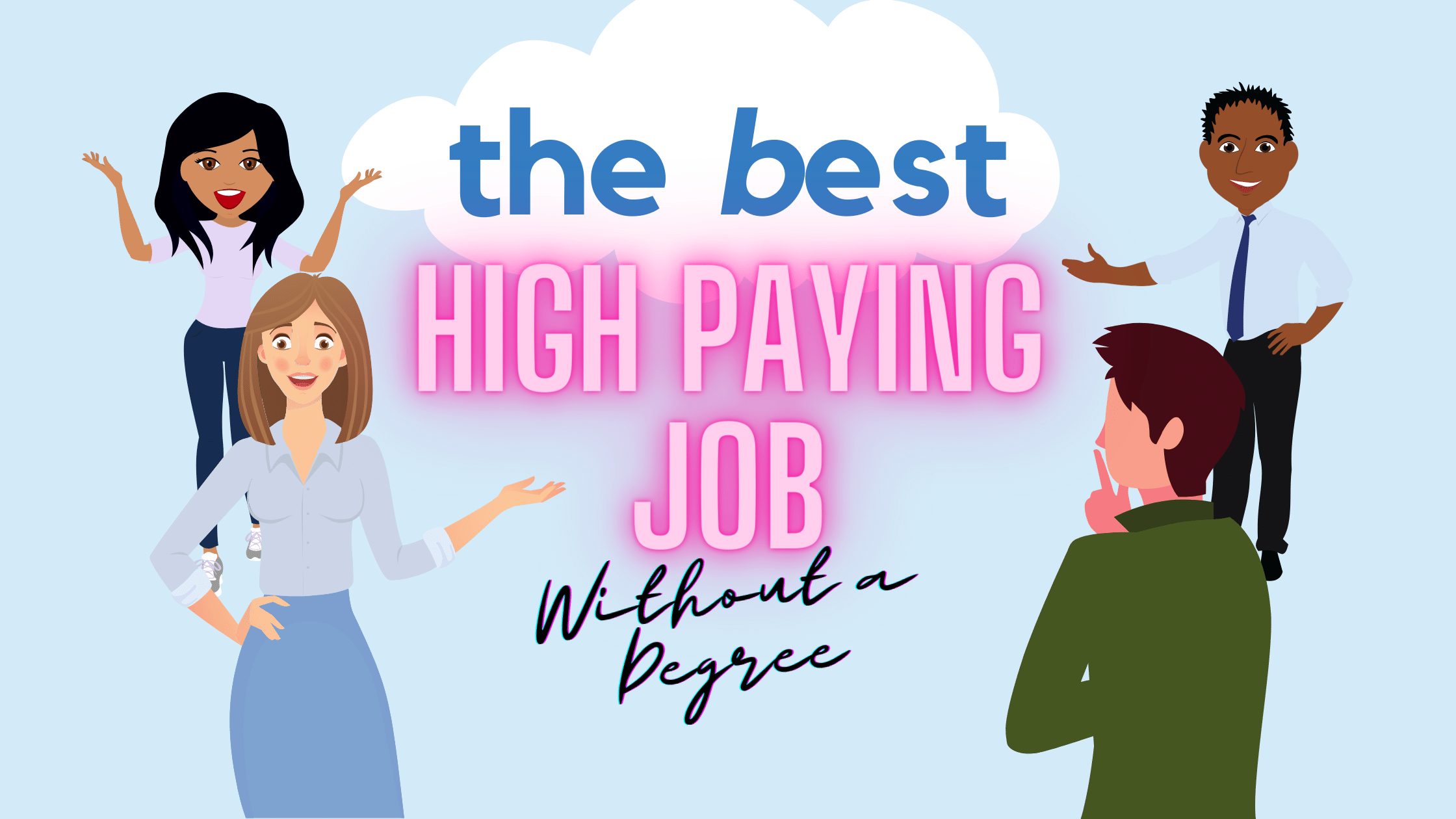 High paying jobs without a degree exist!
Don't assume you can't compete for high paying jobs without a degree. If you have a college degree, don't assume your college degree guarantees a high paying job. There are many people with degrees. A large number of those people also have an enormous amount of student loan debt to show for it.
We all know people who are not using their degrees or are unhappy in their current job. This may describe you. What if there was a way to get a high paying job without a degree?
If you already have a degree, or if you have no college degree, consider this. In six months or less you can earn a Salesforce Admin Certification. Once you have a Salesforce Admin Certification you can begin your Salesforce career. People with Salesforce expertise are very marketable in today's modern economy. Salesforce can offer you one of the best jobs for the future.
Bradley Rice is a Salesforce and Happiness Ambassador
I met Bradley Rice a few years ago at CampFI Southeast. He returned and spoke at later CampFI events about how he shaped his life in order to maximize time spent with his family. Bradley is clearly a smart guy and his passion for life and for helping others shined in his presentation. We've been friends since.
Bradley has a career in Salesforce. He is a Salesforce professional with amazing Salesforce skills. His Salesforce skills earn him high pay on a part time schedule. In addition to his own Salesforce career, he helps others pursue Salesforce careers and empower them to reshape their lives for the better.
What would you prioritize if you were able to shift time currently devoted to work to your personal life?
I asked Bradley to describe current Salesforce career opportunities and why you should consider them. This article shares his insights that I hope you will consider if you are wanting to change direction in your employment and lifestyle.
If working side hustles to make extra money doesn't appeal to you, you may want something more permanent. If you are interested in a career shift into a high paying job with fully remote opportunities with incredibly low barriers to entry that requires less than 6 months to skill up and land a job making $60 to $80k per year, then I'm glad you are reading this article.
What is Salesforce? Why do companies use Salesforce?
Salesforce is an incredible platform used by 100,000+ companies across the globe. Let me start by explaining why Salesforce is so meaningful to businesses and then we will talk about why you can use the success of Salesforce to take control of your career! If you understand the way businesses function you will know they require a ridiculous amount of tools in order to facilitate their operation. Imagine starting a business, even something as simple as selling a virtual product like online guitar lessons. Let's think about what you will need. Below is a list of the basic needs of a small business. You'll be amazed to find that Salesforce makes these tasks much simpler.
List of the basic needs of a small business
Email Functionality (Preferably with pre-built templates for quick response)
Business Phone
Websites
Checkout page with Cart functionality and ability to process payments easily
Login Portal for Customers
Scheduling Application for Customers
Support channels such as phone, email, form for issues
Accounting tools to invoice customers, see historic revenue, forecast future revenue and see trends easily.
Email Funnels to better handle automatic emails that are targeted to your potential customers based on the needs they've expressed.
Ability to easily onboard new employees, virtual assistants, export data to share with partners, investors and accountants.
Salesforce takes all of the above and consolidates it into one platform. It makes a seemingly overwhelming business turn into a part-time job. This is why Salesforce is the #1 Customer Relationship Management (CRM) company in the world and has been growing at breakneck speed for over 10 years. Salesforce growth is showing no sign of slowing down.
Do you need a degree to be a Salesforce admin?
No. You do not need a degree to be a Salesforce admin. This is why…
Why does Salesforce offer high paying jobs without a degree?
Taking all of the tools mentioned above and consolidating them into one platform is no simple task. A company needs an expert to join their team and make Salesforce into an amazing powerhouse tool for their company!
Salesforce is an investment made by a company. They purchase it with the expectation it will make a positive difference to their business practices and bottom line. If it isn't set up and managed properly, they will be disappointed. This is why companies using Salesforce need an employee like you to make Salesforce work for them!
Now you might be thinking, I don't know how to make it work, I don't have a fancy college degree or a background in IT, I'll never be able to do this stuff. This is a poor assumption.
Consider these statistics about Salesforce:
Salesforce careers offer the lowest barriers to entry of any career that offers 6 figure income as an average.
Salesforce professionals have access to more job openings than almost any other profession.
Many Salesforce jobs are fully remote. This means Salesforce careers offer incredible work from home opportunities as you will be working fully online.
Salesforce offers 100% free training through their Trailhead platform! (Why? Because there is so much demand for new Salesforce professionals, they are doing everything they can to make it easier for new professionals to emerge!)
The best career opportunities reside in the United States, Canada and Australia. They curently pay between $60,000 and $80,000 for beginners. However, the Salesforce career path is increasingly becoming a global phenomenon!
What is the easiest way to learn Salesforce?
If you aren't completely happy with your current job, or are simply interested in learning new skills, do yourself a favor and explore Salesforce. I recommend you allow Bradley Rice to be your escort. I know him personally and can vouch for his authenticity, his knowledge, and his desire to help others. He offers free Salesforce course covering:
Determining if Salesforce is something you're truly interested in.
Getting started with free training on Trailhead and earn your Salesforce Admin Certification!
Improving your branding to get the attention of companies who need professionals.
Gaining experience before you land with Salesforce Internships and Salesforce Volunteer Projects!
Turning this new interest into a career that pays incredible income!
How much do Salesforce Administrators make?
Salesforce Administrators average over $100,000 in annual income with just 2-4 years experience! Watch Bradley's video How Much do Salesforce Professionals Make? to learn some more details regarding pay expectations.
Are Salesforce Administrator Jobs commonly available?
Not only are they available, they are actually at an all time high. Watch Bradley's video Salesforce Administrator Jobs for a snapshot of the current state of Salesforce job demands in the modern economy.
Are there Salesforce Communities to learn more and get Salesforce help?
Absolutely! Simply pick your preferred platform! You can find communities on Facebook, LinkedIn, Slack, Discord, and Reddit (plus many more). I am a member of and personally recommend joining the Salesforce For Everyone Facebook Group!
How to get high paying jobs without a degree with Salesforce
If you have no degree, high paying jobs may seem out of reach. This simply isn't true. Sure, it is reasonable for an employer to consider education and aptitude for learning when hiring. But more and more in this modern economy, employers look for results driven experience when hiring talent.
Companies want to hire a person with specific skills. They rely on you to provide immediate value and measurable benefits to their company. If you have a Salesforce Admin Certification, you are competitive in today's job market.
Where can I learn Salesforce?
The free Salesforce 5-day Challenge is the best place to get started. It provides a comprehensive approach to landing a Salesforce job. Bradley will tell you all about Trailhead, which is the best Salesforce training platform for you to become a Salesforce Trailblazer!
By David Q. Baughier of fiology.com