Searching for Financial Peace? Look Here First!
April 1, 2021

May 4, 2021

/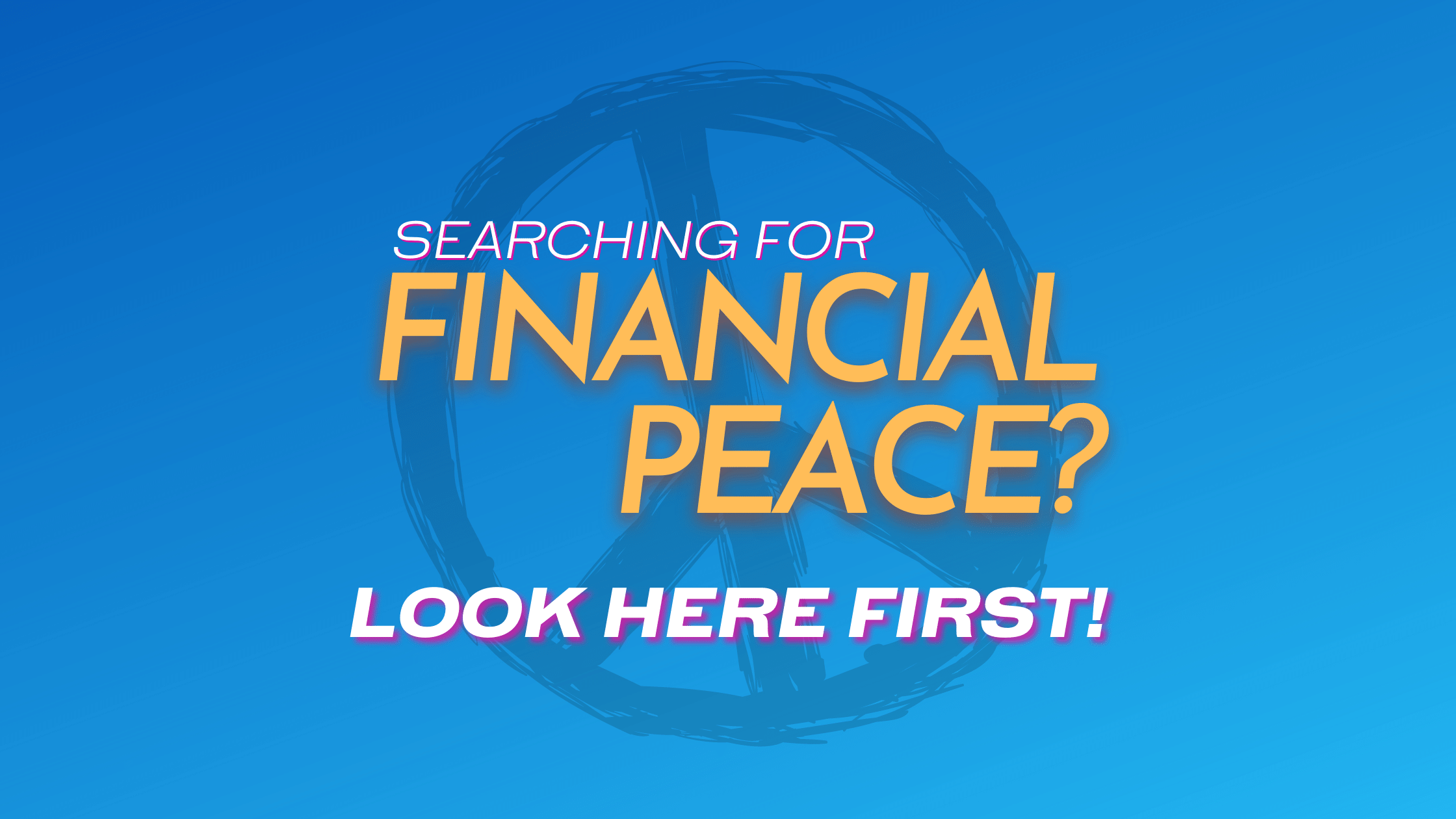 Financial Peace University (FPU) vs. Fiology.
I completed Financial Peace University in 2015 and the Financial Coach Master Training program through Ramsey Solutions in 2021. My name is Mary-Ellen Fimbel and I am a financial coach.
Lessons learned from Dave Ramsey and lessons learned from the Financial Independence Retire Early (FIRE) movement shaped my personal finance journey.
This article examines the difference between two financial education programs – Dave Ramsey's Financial Peace University and David Baughier's Fiology.
To support the spirit of Financial Literacy Month, the information presented here will help you determine which financial literacy program to choose to support your personal finance journey.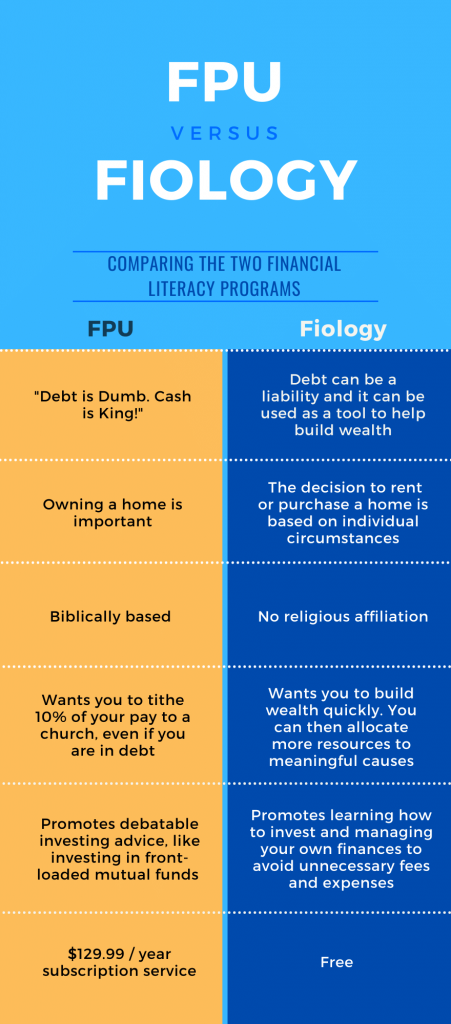 Dave Ramsey and Financial Peace University (FPU)
Dave Ramsey started educating people in 1991. He established the Lampo Group, LLC to provide Financial coaching to people as he worked his way out of debt from real estate investments that didn't turn out as planned. He coached people in person and after self-publishing his first book was asked by a local radio station to host a Q&A radio program.
His first book and radio show rapidly gained notoriety. Inspired, Dave Ramsey went on to create one of the most well known financial education programs in America, Financial Peace University (FPU).
According to Dave Ramsey, more than 5 million people have participated in Financial Peace University.
Originally, Financial Peace University was hosted at churches in congregations across the country. Now, in addition to the traditional class settings, FPU is available online in its own app and as a part of the "Ramsey +" program which also includes the budgeting app "EveryDollar" and the "Baby Steps" app to help track your progress on the 7 financial goals that are the pillars of the program.
Dave Ramsey's Company has grown to include many personalities and resources to help families through major financial decisions. He's developed a vast network of endorsed local providers, and his company continues to grow and currently employs over 900 team members.
Dave Ramsey and his Ramsey Solutions aim to help people with personal finances through biblically-based financial education.
What is Ramsey +
Ramsey+ is the current iteration of Dave Ramsy's financial program. It includes Financial Peace University (FPU), the EveryDollar app for budgeting, and BabySteps app for tracking your progress through the 7 Baby Steps Dave Ramsey is famous for.
The apps are also available outside the current paid Ramsey+ program. They can be used as stand-alone apps.
What is Financial Peace University (FPU)
Financial Peace University is the course that Dave invented to teach biblically-based financial literacy. It uses nine lessons to build the basic foundation of personal financial knowledge.
The 9 Financial Peace University lessons are:
Build a Starter Emergency Fund and Learn How to Budget
Pay Off All Debt
Save a Fully Funded Emergency Fund
Invest for the Future and Build Wealth
Buyer Beware
The Role of Insurance
Retirement Planning
Real Estate and Mortgages
The Great Misunderstanding
I received the most benefit from "The Role of Insurance." Because of this lesson, I switched to a High Deductible Health Plan and Health Savings Account (HSA) at a young age and the HSA contributions and lower premiums resulted in a significant positive impact to my overall finances.
When I took FPU six years ago it cost $100 and you could take it as often as you liked. You received a kit with recorded videos and resources. I believe the current version of the app includes all of these. Additional resources in the current app included Legacy Journey and Smart Money Smart Kids. You used to have to pay for these separately.
Dave Ramsey has added team members to diversify his investing advice and focus on the topic of kids and money and promises to add content to maintain relevance.
EveryDollar
EveryDollar is a budgeting app by the Ramsey Solutions team with both a free version and a paid premier version. The Ramsey+ subscription includes the premier version of the EveryDollar app. The free version helps users create a very elementary zero-based budget. EveryDollar helps you understand and organize a zero-based budget and establish the practice of keeping track of your spending and budgeting habits.
This app does not allow for some of the larger comparisons that I find valuable, like year-over-year spending. But the EveryDollar app is great for basic budgeting.
Dave Ramsey's Baby Steps
The BabySteps app offers a fun way to track your progress along Dave Ramsey's 7 Baby Steps.
DR's 7 Baby Steps are:
Establish a $1,000 emergency fund.
Pay off your debts smallest to largest irregardless of the interest rate.
Build a 3 to 6 month emergency fund.
Start contributing 15% to retirement.
Start saving for kids college.
Pay off your house.
Build wealth and give.
The 7 Baby Steps were a good introduction to responsible finance and gave me some goals and ideas to think about as I created my financial plan. It offered an easy guide to become debt free.
Updates to Dave Ramsey's Program
The biggest shift in the program is that now you pay for Ramsey+ in either a three, six, or twelve month subscription. This is a departure from the previous one time fee for FPU and the optional upgrade for the paid features of EveryDollar. The twelve month subscription of Ramsey+ is $129, which is about the same as just the premier version of EveryDollar. So, if you plan on using EveryDollar for at least a year, you might as well consider the entire Ramsey+ suite.
However, if you are paying every three months for the program, the cost nearly doubles. If you decide to go this route, definitely weigh the pros and cons of the different pay options of the Ramsey+ subscription service.
The apps are also available outside the current paid Ramsey+ program. They can be used as stand-alone apps.
Is Dave Ramsey legit?
When I graduated college I didn't know much about money. I knew budgets were good and credit cards were bad. Having been briefly introduced to Dave Ramsey twice while in college I decided to give his advice a try.
Honestly in the beginning I thought Financial Peace University was a multi-level marketing scam. This was due to the nature of how it was talked about and presented to me. I didn't really want to spend a ton of money on getting my money in order but I did want to learn and create a solid financial foundation.
Because of my concerns about the program, I didn't immediately pay for FPU. The only reason I gave Dave Ramsey my attention at all was that the parents of a good friend of mine paid off a ton of debt following his advice. I figured it couldn't hurt to read and listen to what he had to say. If he seemed legit I would buy the program.
Armed with Dave Ramsey's podcast/radio show and a couple of his books I began my journey to become debt-free.
Through the podcast and books I learned about budgeting, saving, and insurance. I learned quite a bit about boundaries and how people think about money. With this new knowledge I made significant progress with my finances. I realized that FPU wasn't actually a multi-level marketing scam. I paid to attend the course with my fiancé to make sure he and I were on the same financial page before getting married.
The delivery of the program has changed a bit since 2015 but the core of the course is the same.
I'm debt free! Now what?
In 2016 I became debt free. The freedom came with kind of a sad feeling as I felt like I no longer fit the Dave Ramsey club. I looked into investing with an advisor but all the management fees made me uneasy.
I had no desire to keep working for another 40 years. Heck, even 20 years seemed like forever to me. Coming from humble beginnings, I had no desire to build the kind of wealthy lifestyle Dave Ramsey painted as encouragement to his listeners.
I became very interested in investing. Dave Ramsey's advice at the time was very limited. Feeling uncomfortable with the fees associated with financial advisors, I began to explore investing on my own. My uncle suggested I start learning about passive index fund investing and researching them to understand the market.
As I began to learn about index funds and investing in general, I discovered the FIRE movement.
Members of the Financial Independence Retire Early (FIRE) movement have a goal of being able to have their money work for them rather than continue working traditional jobs for their money. They want freedom of choice in their lives. Most of all, they want control over their time.
I spent a few years following Mr. Money Mustache and he led me to Fiology, where I discovered a wealth of well-organized information about personal finance and financial independence.
David Baughier and Fiology
David is recently retired after 20 years of service in the military. He has always been interested in personal finance and investing but wasn't formally introduced to the concept of financial independence until late 2015. He spent the next few years becoming familiar with the many concepts that support a person's financial independence journey.
While he wanted to help anyone eager to take charge of their finances, he realized there was no single blogger, website, or resource that adequately escorted someone along the journey. He experienced great content creators across the internet and he saw no need to recreate the information in his own voice.
David established what he considers the 52 concepts of Financial Independence and then curated information to support each concept.
Fiology differs from many financial education programs in that it is a collection of resources organized into a curriculum that allows people to develop their own financial plan, rather than teaching people to create a financial plan around predetermined assumptions and rules.
A major point worth noting about Fiology is David is committed to keeping the financial independence course free – a resource for all.
In 2019 David Baugier and MK Williams published The Fiology Workbook: Your Guide to Financial Independence. The workbook gives the user the ability to record data and track their own specific journey.
What is Fiology?
The Free Financial Independence Course
Fiology is a well-curated resource by David Baughier to help people learn about the personal finance skills needed to achieve financial independence. The goal of Flology is to share information and encourage others to achieve financial independence (FI).
The financial independence course page contains 52 lessons about Financial Independence and how to achieve it. This includes value and mindset work in addition to the basics of personal finance like budgeting, saving, and investing.
The 52 lessons offer a variety of perspectives and ideas from great minds in the financial independence movement. You have access to all of the lessons on the course page but I preferred the option to enroll and receive a lesson each Tuesday via email. One thing I really value about the lessons and presentation is the mix of articles, podcasts, and videos. No matter how you learn, you can soak it up in your preferred format.
The Fiology Workbook
Fiology helps you create financial goals that align with your values. The FIology program is very flexible because rather than trying to make your money fit it's plan, you are using the information in Fiology to create your own financial plan.
You set your own goals and decide how you will measure success. Additionally, because Fiology is dedicated to being free for everyone forever there is no pressure to buy anything. The workbook for the program is currently offered as a free downloadable PDF.
If you want your own paper copy to record and track progress, you can buy The Fiology Workbook: Your Guide to Financial Independence through Amazon for about $16.
Financial Independence Coaches
Fiology also features a set of financial independence coaches who agree to 4 simple principles. They do not pay to be featured. The free nature of Fiology makes the information available more accessible to everyone and reduces the chance of bias.
As I learned more about the FIRE movement and financial independence, I began to see financial goals and money in a new light. I realized that Dave Ramsey's method is good, but far from perfect. You can can achieve financial peace with the FPU principals. What I want is Financial Freedom. I need the support of a more holistic program like Fiology to achieve that.
Your journey to financial peace
Before choosing the appropriate financial program to help you on your financial journey, it's important to determine your specific financial goals. For many people, it's to get out of debt and stop living paycheck to paycheck. For some, it's improving their credit score. You may want to become financially independent and retire early.
For any financial plan or program to be effective in your own life you need to make it relevant to you and your values. If you aren't sure yet what your goals are, that's fine. Keep an open mind as you start looking at your options for financial education and see what speaks to you.
The important thing is to just start. You will change your mind as you go. Your goals will change during your journey, altering your course along the journey. That's life. That's normal. The important thing is to start. By starting your financial education you are beginning to take control of your life and moving forward with a plan for your money. This will benefit you no matter what you choose to do in the future.
Is Financial Peace and Financial Independence the same thing?
I believe the answer is no. Financial Peace comes from having a plan for your money and following it, breaking out of the paycheck to paycheck lifestyle and having money for emergencies, savings, and a plan for retirement. To me, that is financial peace.
Financial independence is having such great understanding and control over your personal financial situation that you are able to make personal and professional decisions without worry. You are able to adapt and adjust your lifestyle to promote happiness.
Being financially independent also means you are able to fully understand the financial decisions you make. You'll be confident in knowing their short term and long term implications. Armed with this knowledge, you'll know why and how to spend, save, and invest your money.
I would suggest that financial peace is merely a milestone on the journey to financial independence. Once you achieve financial peace, you can stay the course and continue working for money to support your plan for financial peace.
Or, once you have gained financial peace, you can continue to learn and create opportunities with your money, eventually becoming financially independent and living a personal lifestyle of choice and freedom.
Which is the best financial literacy program, Ramsey+ or Fiology?
What you should know about Financial Peace
It is a bit unfair to compare Ramsey+ with Fiology. Ramsey Solutions goal is not financial independence, only financial peace. Obviously financial independence isn't important to Dave Ramsey. He is still working but could easily retire with the empire he's created.
Dave Ramsey is the CEO of Ramsey Solutions, a for-profit company
Dave Ramsey's work and vocation are important to him and his everyday life. It is his way to serve others and God. He makes money and provides over 900 jobs in his community. This also means his program is a business.
Ironically, Ramsey Solutions is now using a payment model strategy for the Ramsey+ subscriptions. I remember discussing during the "Buyer Beware" section of FPU charging more for paying a few months at a time. I was disappointed to discover, during my Financial Coach Master Training with Ramsey Solutions, that his "Endorsed Local Providers (ELPs)" pay for the endorsement. It makes business sense, but I was disappointed to discover it nonetheless.
Overall, the Dave Ramsey Method has a lot to offer, it is a solid framework that works for many people. According to his website, "The average FPU member completing the course pays off $5,300 in debt and saves $2,700 in the first 90 days."
If you're looking for a Christain program that gives you actionable steps to get out of debt, and a bonus feeling of being loosely associated with a celebrity, the Ramsey+ program may be right for you. If creating your own goals seems too time consuming, or if you just aren't really sure what your goals are but you want to start being responsible with your money, the Baby Steps are a great starting off point.
The ease of having all the resources with a unified message makes following Dave's plan simple to understand and follow. This allows you to focus on paying off debt and completing the Baby Steps. If you want to get on a train and ride it towards financial peace, Ramsey+ may be the way to go.
You don't have to settle for financial peace
Do you desire a secular, personalized approach to personal finance? Maybe you have different goals that don't necessarily include paying for a child's college or homeownership. Perhaps your values don't align with those of Ramsey Solutions. You may be an FPU graduate and are asking "now what?" If any of these resonate with you, Fiology is perfect for you.
Fiology's dynamic lessons feature multiple points of view and can help you align your financial goals with your values to create a very meaningful financial plan rather than a predetermined plan that may not take into account your personal circumstances.
I think anyone who wants to understand personal finance should enroll in Fiology. Experiencing a variety of views on personal finance concepts help people realize that we can all be different with a shared goal of bettering our finances and our lives. Fiology understands we each have unique circumstances, desires, and the power to identify and pursue our goals.
With more choices does come more responsibility. For example, many people in the FIRE community use credit cards. Dave Ramsey has you cut them up and never use them again. Personally, I have never had a credit card because I wanted to remove the temptation of spending.
This aspect of the Dave Ramsey program never bothered me. I know some people completely fell off the path to financial peace because they felt like the requirement to never use credit cards was too restrictive. Perhaps if people go through Fiology they will develop a healthier relationship with debt.
Obviously, any time there are choices involved it is important to know yourself and your tendencies. Fiology has some resources to help you figure those out, FPU has strict rules to follow to stave off temptation. In the end the choice is yours.
5 Questions to help you choose between Ramsey+ and Fiology
Do you feel strongly that religion and a financial literacy program should be integrated?
Does Ramsey's 7 Baby Steps align with your personal financial goals?
Would you like the option to quit working for money prior to traditional retirement age?
Do you want to pay $129.99 a year for a financial literacy program?
What level of financial knowledge do you want from your financial literacy program?
If you came to this article exploring potential financial literacy program options, please do additional research and find one that you believe will benefit you most. If you have benefited from Financial Peace University or Fiology, please help others learn more by providing additional insights in the comment section below.
By Mary-Ellen Fimbel of Fundamental Finance