One More Year Syndrome (OMY) – Should You Keep Working?
November 9, 2018

December 22, 2021

/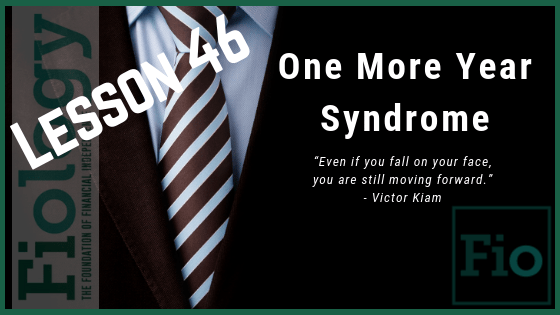 What is the One More Year Syndrome (OMY)?
The One More Year Syndrome (OMY) is defined as having a continued urge to work even though you have already met your planned financial goals. Of course working a little longer to pad the coffers has its merits, but is it worth it? And does the urge to keep working stem from fear or logic. The answer likely lies somewhere in between.
After years of diligent savings and being extremely aware of and planning for all fathomable downside future risks, nearing the FI finish line can be both exciting and scary. It is a great position to be in and should be all rainbows and butterflies but there is always at least some level of anxiety. If we are still able to work, should we? Continuing to work will certainly minimize the risk of the future unknown further, right?
Do we take the leap, make a clean break from our previous paycheck, and fully embrace all that we dreamed FI will bring? I mean, we planned for this day and all will be well, right? This is choice causes pause for many in the FI community. This lesson will define the One More Year Syndrome and provide a variety of viewpoints to help you reflect on your own circumstances and move forward to a decision that works best for us and our future.
Fiology thanks mentor and friend Doug Nordman of The Military Guide for shaping this lesson.
Note: We searched for podcasts and videos to support this concept and found little. If you are aware of any other medium supporting the One More Year Syndrome, please let us know.
Read:
Take Action:
No matter where we are on our FI journey, despite what logic and numbers support, we are likely to give great consideration to the decision to finally begin proving our concept of FI. With this information as a basis, continue to think about how you will interpret the many factors that make up the One More Year Syndrome.
Additional Resources:
Quote:
"Even if you fall on your face, you are still moving forward." – Victor Kiam