Dream Big and See What Happens!
November 9, 2018

May 25, 2023

/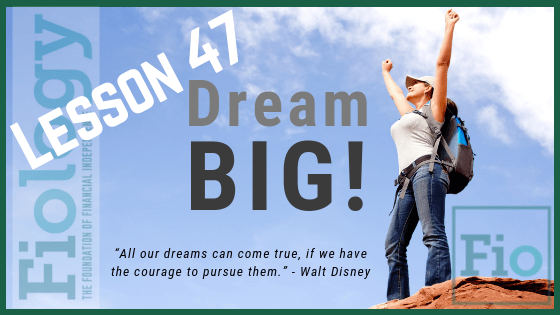 We used to dream big!
In our youth we would dream big. One day we would conquer the world, have the perfect family, find a cure for that ailing disease, reach the tallest peaks, or write the perfect song. Something happened over time. Reality set in and the tasks of our daily routines pushed out that desire for belief that we could be, have, or achieve more.
It's time to tap back into your dreams and believe that you can achieve much more than you may have settled for up to this point.
Dream big along your journey
Why did you choose Financial Independence? For most of us it's so that we have the option to focus on things in our lives that bring us happiness and fulfillment. For some, this means spending more time with family and friends, for some it means continuing to do work they love, and still for others it is pursuing new experiences.
In alignment with your why of Financial Independence, allow yourself to dream big. In a society where there is no shortage of demotivators and distractions,  dreaming big maintains our focus and keeps us moving forward toward our goals.
Read:
Watch:
Listen:
Take Action:
After reading

How to Become a Big Thinker  

by Michael Hyatt of michaelhyatt.com, write down your answers to the 7 steps he provides to develop the critical skill of Big Thinking. Mark your calendar for two months from today and repeat this exercise.
Additional Resources:
Quote:
"All our dreams can come true, if we have the courage to pursue them." – Walt Disney