Caring for Aging Parents
November 9, 2018

December 22, 2021

/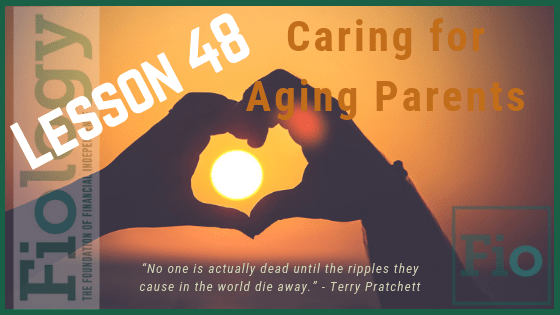 Caring for aging parents is, for many of us, inevitable.
Caring for aging parents might mean we care for our parents or that our children are caring for us.
Time marches on, both for us and for those we care about. When we are young we think of our parents as permanent and only much later realize that isn't the case. We all grow old and eventually die. That journey is difficult for us and for those who take on the responsibilities of helping us live our waning years with as much fulfillment as possible.
Financial Independence provides options. Early on in our adulthood, perhaps when we first hit FI, we are able to spend more time with friends and family, travel, and explore our passions. Something we don't think about often is the option it provides to care for our parents, if necessary. And if it is us who are in the final stage, having our financial house in order reduces the stress of our caregivers.
Many who are reading this are likely many years away from their golden years but our parents may be entering them. This lesson in no way will cover your specific circumstances but it will give you some perspective and some general thoughts on the subject to help direct further research when warranted.  
Read:
Watch:
Listen:
Take Action:
Deeply consider your responses to the three questions below from Doug Nordman's post above regarding caring for aging parents.
What about you? Have you taken care of your financial independence?

Would you like to have the time (and money) in your life to be there for your family?

When the time comes, will your caregivers be able to take over your financial affairs?
Additional Resources:
Quote:
"No one is actually dead until the ripples they cause in the world die away." – Terry Pratchett