LESSON 49 : SOCIAL SECURITY
November 9, 2018

December 22, 2021

/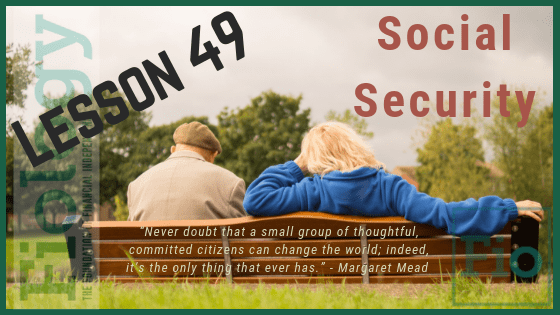 There are plenty of views and opinions regarding Social Security. For many in the FI community, planning goes forward with the assumption that it won't exist at some point in the future. That is a very conservative approach. The question of the duration of the Social Security program has been ongoing for decades so many believe that while there may be changes, as have been in the past, Social Security in some form will be in existence to support our mature years.
So, what are we to do about it? As we discovered when learning about Stoicism we should not fret on the things for which we have no control over, and we arguably have little control, aside from voting, over the future of Social Security. The cost of executing your FI planning with the assumption that Social Security won't exist could be more years of staying in a job you don't enjoy. Surely it isn't so cut and dry but however we decide to factor in Social Security, it should be a conscious decision.
Frankly, there is nothing simple about the Social Security program. When do you choose to begin receiving it? What happens if a spouse dies? If I don't work until traditional retirement age, how does that affect my payments? These questions (and so so many more) will need to be answered. This lesson cannot provide all of the answers to a specific circumstance but it does provide an overview and some additional resources to help frame the discussion.
Explore: Official Social Security Administration website at ssa.gov
Read: What Will You Get from Social Security? by Robert Brokamp of getrichslowly.org
Read: How Social Security Benefits Are Calculated by Mike Piper of obliviousinvestor.com
Read: The Impact Of Early Retirement On Projected Social Security Benefits by Michael Kitces of kitces.com
Read: Valuing Social Security Benefits As An Asset On The Household Balance Sheet by Michael Kitces of kitces.com
Take Action: Maybe you've thought of Social Security as something that is going to happen for/to you at some time in the future and haven't really given much thought to how it may fit into your financial planning. Using the information provided in this lesson, go ahead and make a few assumptions and project how Social Security could likely impact your future. This will change over time as program rules and your financial situation evolve, but going through this process now will better help frame future discussions and decisions.
Additional Resources:
Read: Social Security Strategies for Married Couples by Mike Piper of obliviousinvestor.com
Watch: Social Security Spousal Benefits – The Easy Guide by Devin Carroll of socialsecurityintelligence.com on YouTube (There are many worthwhile videos on Devin's socialsecurityintelligence.com website.)
Read: Why It Rarely Pays For Both Spouses To Delay Social Security Benefits by Michael Kitces of kitces.com
Quote: "Never doubt that a small group of thoughtful, committed citizens can change the world; indeed, it's the only thing that ever has." – Margaret Mead