The Fiology Workbook: Your Guide to FI
February 1, 2018

April 9, 2021

/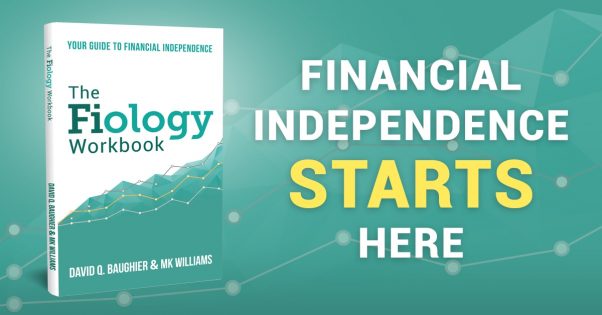 Your Guide to Financial Independence
Fiology is a free online resource for anyone looking to understand their finances, take action, and become Financially Independent. In addition to the mechanics of saving and investing, the course addresses the issues of happiness, mindset, decision-making, dreaming big, and philosophy.
You can get the free weekly lessons simply by inputting your information into the enroll forms at the top or bottom of this page.
To enhance your Financial Independence journey, The Fiology Workbook: Your Guide to Financial Independence will lead you through the online course with worksheets, journaling, and helpful trackers so that you can measure your progress and establish your most effective habits.
Financial Independence Can Help Make You Happier!
My passion for educating and helping others led to the curation of Fiology, where your knowledge and confidence in the concepts of Financial Independence builds as you experience the 52 free lessons. You can discover your own unique path to achieve Financial Independence and help spread the powerful message of Financial Independence by purchasing and using The Fiology Workbook: Your Guide to Financial Independence available on Amazon.
If you are already confident that you are well on your way to Financial Independence, consider the benefit of sharing this workbook with a friend, student, family member, or coworker you believe can benefit from Financial Independence. In gifting this to them, you can feel confident they now have the resources available to succeed.
Please reach out to me personally if you feel I can help you in any way.
Buy One, Give One
For every copy of The Fiology Workbook: Your Guide to Financial Independence purchased, one copy will given to promote Financial Independence education. Thank you for helping me spread this powerful and much needed message.
Now available on Amazon.
Very Respectfully,
David Q. Baughier
Need more than one copy? Purchase at discounted rates for your Gifting, Classroom Workshops, and Webinars.
| | | | | |
| --- | --- | --- | --- | --- |
| QTY | Retail Price | Fiology Price | Discount | |
| 5 | $97.50 | $86.76 | 11% | |
| 10 | $195.00 | $157.88 | 19% | |
| 25 | $487.50 | $321.24 | 34% | |
| 50 | $975.00 | $540.34 | 45% | |
Taxes, handling fees, and shipping are included in the Fiology price. You may be contacted if these costs exceed estimate. Retail price is 19.50 per workbook.