Bouncing Back With the BRRRR Method
June 9, 2019

April 6, 2021

/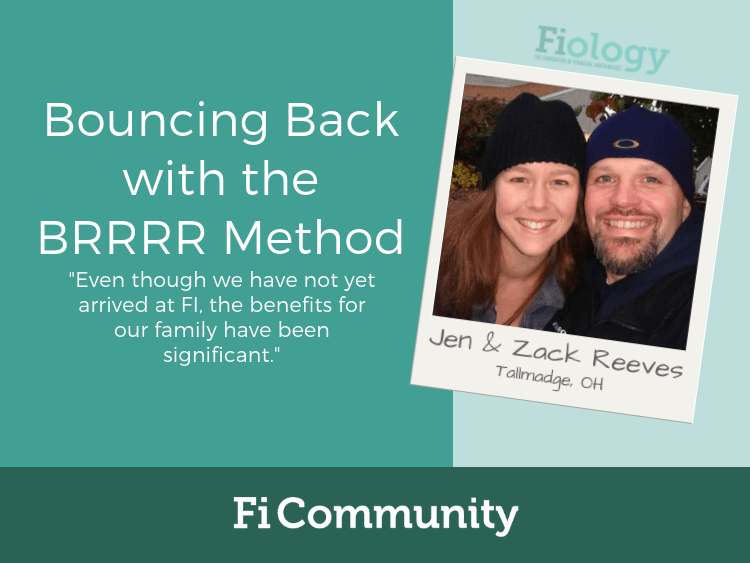 Over the past four years, my husband and I have journeyed from virtually no hope of ever retiring to tripling our net worth and earning enough passive income to nearly cover our monthly expenses. We realized this through strategic real estate investing and credit our current position almost entirely to the Buy, Rehab, Rent, Refinance, Repeat (BRRRR) strategy. I'll share detailed purchase and rehab numbers, as well as the refinancing strategies we have used along the way.
But first, some background.
Early On: Super Saving Our Way to Zero
I've always been a saver. Even from childhood, I would diligently save anything I brought in. This tendency allowed me to buy my first home shortly after my 22nd birthday. After all, real estate always increases in value, right? What better place could I invest my hard-earned dollars?
However, though I was a natural expert at keeping my expenses low and my savings rate high, I had no idea how to invest that money properly. I had an innate distrust of the stock market. Why would I put my money at such risk, when I could earn a guaranteed 4% return in my online savings account? It made more sense to stockpile cash and invest in my home. As long as I maintained it well, my my home would inevitably gain value. Or, so I thought.
When the housing market crashed, my husband and I were newly married, each with a home that was now underwater. In both cases, we had purchased homes within our means and had added supposed value through smart improvements. Unfortunately, both of these homes were located in Mansfield, Ohio. Mansfield was not only affected by the nationwide mortgage crisis, but also by the added calamity of losing one of the area's major employers. The local GM plant shut down during the same timeframe, which was devastating to the local economy.
We struggled for years to make payments on both homes and failed miserably at an attempt to be landlords, renting out one of the homes while living in the other. We had a knack for selecting horrible tenants and eventually sold both homes at a massive loss. Our savings? Completely depleted. We had to borrow money in order to pay off the mortgages, cut our losses, and sell.
The only redeeming factor in our position? The housing market was now truly at its lowest. And due to our continued frugality, we were able to save for another down payment on a distressed property. This time we bought well. We moved in, renovated the home, and eventually sold for a hefty profit once the market had partially recovered. And as a side effect, I found that I absolutely loved the renovation process, especially when it was profitable!
Fast forward a few more years and we had continued to hone our renovation skills, and had built our savings back up. However, I had since become a stay-at-home mom, and we knew my husband's career as a pastor would never match my former engineering
salary. I started to research investing and retirement strategies, and finally realized how much my conservatism in investing had handicapped us. Those online savings accounts were now earning less than 1%. The stock market, on the other hand, had rebounded mightily. And we had missed it. I devoured blogs such as Mr. Money Mustache, who completely transformed my view of investing and made me realize retirement was still obtainable.
Discovering Real Estate
Through much research and debate (my husband was extremely averse to becoming a landlord again), we eventually decided that the best way to make up for lost time was by investing in rental properties. Fortunately, I discovered BiggerPockets during this time, and spent months reading through the forums and blog posts, learning how to properly analyze properties and screen tenants. And perhaps most importantly, I was introduced to the BRRRR strategy.
This strategy proved to be the biggest factor propelling us toward financial independence. Since late 2015, we bought and renovated six investment properties, and sold one, which leaves us with five single family rentals today. We have used the BRRRR strategy for each home, which means we basically recycled the same capital for each property. And now the juicy part. Here are some detailed numbers detailing how we were able to keep reusing the same funds to buy more properties each year.
A Case Study in BRRRR
We bought our first intentional rental property in 2015. The house was a for-sale-by- owner home and an absolute disaster. The rehab took three months, and most of that time was spent remediating cigarette smoke.
The breakdown…
Purchase price: $77,400
Down payment: $15,480 (financed with 30-year conventional mortgage)
Repairs/Closing/Holding costs: $34,530
Total cost basis: $50,010
We rented out the property and after all expenses and the mortgage payment, net about $600/month. That alone would be a pretty good return on our $50,010 investment. However, a year after purchase, the property appraised for $155,000, which meant we could take out a $57,000 HELOC. That was our entire initial investment, plus a bit extra! Not only were we making significant cash flow each month, we now had more capital in our pockets to buy the next property. The real power of the BRRRR strategy finally made sense.
Over the next few years, we repeated this process with some slight modifications. We began networking with other investors, which gave us access to private funding. This meant we could make all-cash offers on properties, getting us better deals on the front end and quicker refinances on the backend.
We also developed better rehab strategies and discovered ways to add significant value. Our favorite strategy is to purchase a two bedroom, one bathroom Cape Cod-style house and add a master suite in the attic space, converting the property to a 3/2. This not only helps with the new appraisal value, but also allows us to charge significantly more rent.
We refinance using both conventional mortgage brokers and portfolio lenders. We usually pull out most of our initial capital on the refinance, give or take a few thousand dollars. It's difficult to calculate our ROI, as some properties are essentially giving us an infinite return (we do not have any of our initial capital left in the deal). If you ignore those properties with incalculable returns, we average about 20% ROI even on those properties where we still left some cash behind as equity.
Essentially, three and a half years later, we have tripled our net worth and bring in enough monthly income to cover just over half of our living expenses. In other words, we're halfway to achieving financial independence. In fact, we hope to make a move into multi-family properties in the near future and close the gap to financial freedom in another year or so.
Looking Ahead
Even though we have not yet "arrived" at FI, the benefits for our family have been significant. We have come to realize more and more the value of time and taking full advantage of the uniqueness of each season of life. Last year we were able to travel to Europe with our kids, something that we never would have deemed possible a few years ago.
Knowing that financial independence is not just possible, but readily achievable has given us the freedom to strategically decide how to best utilize our current resources, whether that be on investments or simply enjoying the present. This freedom is something that my former, insecure, "must-save-everything" self never could have done. I am incredibly thankful for the generosity of knowledge that exists within the FI community and for the vastly different path my family is now following.
By Jen and Zack Reeves of Exceptional Homes of Ohio