Fivangelism: Spreading the Message of FI
November 9, 2018

June 22, 2021

/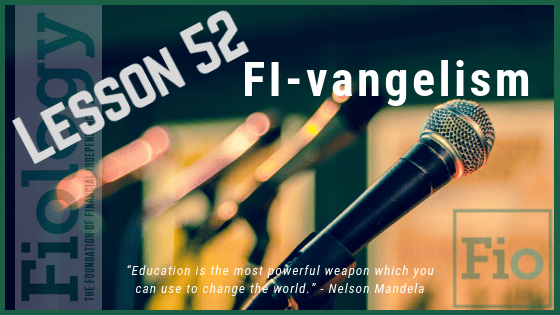 Fivangelism is the act of promoting the concepts of Financial Independence.
You may actively communicate the merits of Financial Independence by initiating discussions with others or you may passively communicate the merits of Financial Independence by serving as an example.
Congratulations! You've finished a thorough exploration of the critical concepts of Financial Independence.
Think of where you were a year ago and the progress you made along the way and how much better your future will be for it.
Of course you didn't incorporate everything you learned (surprise, no one does) but you did increase your level of knowledge and understanding of your "Why" and "How" of FI and have likely made drastic progress towards FI that you may not have made otherwise.
So what do you do now? Unless you unsubscribe you will repeat this process as there will have been lesson revisions since you first experienced them – and it is always good to review what was learned for positive reinforcement.
Your education on these concepts will continue but what else is there for you to pursue on your Financial Independence journey?
4 steps towards fivangelism:
If you have not yet experienced a

CampFI

, I cannot recommend this event enough. A simple Google search will result in a number of reviews by previous guests. In full disclosure, my twin brother, Stephen, is the founder of CampFI. His passion is expanding the FI community because it adds so much value to the world around it.

By now you have explored hundreds of content providers in the FI space. Continue to support those who have contributed to your education by leaving positive and worthwhile comments on their websites or social media sites.

Please provide feedback to me directly at

david@fiology.com

. In particular, I would be interested in knowing if there any other topics that you would like to be included or any ideas on how we can work to help carry out fivangelism.

Join me in spreading the message of Financial Independence to others. Below you will find some simple copy and paste phrases for your social media. Of course adding your own comments and reflections will make the messages more impactful.
Twitter

I have completed all of the @FiologyLessons! I encourage you to enroll (for free) here:

www.fiology.com

#FinancialIndependence #FI #fivangelism

Facebook

It's official! I am a Fiology graduate! Fiology sends you FREE weekly lessons (straight to your inbox) on how to plan for and achieve Financial Independence.  

www.fiology.com

For the past 52 weeks I have been learning about Financial Independence from Fiology. Today I completed my last course! I encourage you to enroll for free here:

www.fiology.com
Quote:
"Education is the most powerful weapon which you can use to change the world." – Nelson Mandela