LESSON 31 : DON'T CELL YOURSELF SHORT
July 30, 2018

March 21, 2021

/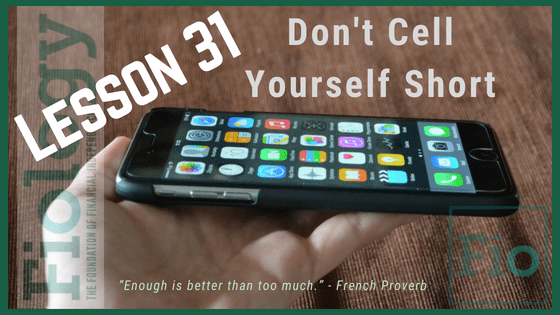 Fiology thanks Deanna of Recovering Women Wealth, for shaping this lesson.
Cell phones – love 'em or hate 'em, most of us can't seem to live without them. Owning a cell phone, however, does not mean we need to donate a significant portion of cash to the coffers of the "popular" carriers. We'd much rather contribute to more valuable things in our life like our Financial Independence. There are plenty of smaller, prepaid carriers who rent the networks from the big guys and charge much less. They are also known as Mobile Virtual Network Operators (MVNOs). MVNOs enter into a business agreement with a mobile network operator and obtain services at wholesale prices. Then they set their prices independently.   
For many, our cell phones are our primary way to keep in contact with the people and things in the world that are extremely important to us. It is no surprise, then, that we tend to become defensive at the first thought of modifying the relationship between ourselves and our cell service providers. After this lesson, you should be much more comfortable with examining and considering the options that most closely meet your needs.
Read:   The True-er Cost of Your Cell Phone Addiction   by Kpeds of pediatricianfindsfi.com
Read:  Cellular Service Study  by Deanna of recoveringwomenwealth.com
Read:  Total Wireless…Same Verizon Network, Less $$$  by Jim of routetoretire.com
Read:  Are Low-Cost Cell Phone Plans Really Worth the Savings  by Women Who Money of womenwhomoney.com
Take Action:  Do you really need unlimited data? Track your data usage and find ways to drive that number down and perhaps you'll discover you can buy a cheaper package. Know what network you need, buy your phone outright (don't rent it) and research some MVNOs to find one that is right for you. Worst case, you can always shift back to the more expensive option if you are truly unhappy with the switch.
Additional Resources
Read:  Is Your Cell Phone Bill Ruining Your Monthly Budget?  by Chris of thecashdad.com
Quote: "Enough is better than too  much." – French Proverb