Lower My Cell Phone Bill and Increase My Net Worth!
July 30, 2018

December 22, 2021

/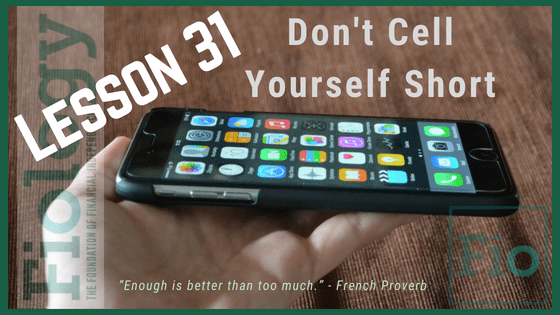 MVNO Cell Phone Plans: low cost / high reward!
If you open your monthly bill to a surprisingly high number of dollars owed, you may be asking yourself, "How can I lower my cell phone bill?"
Cell phones – love 'em or hate 'em, we can't seem to live without them. Owning a cell phone, however, does not mean we need to donate a significant portion of cash to the coffers of the "popular" carriers. We'd much rather contribute our hard earned cash to more valuable things in our life like our Financial Independence.
What does MVNO stand for?
MVNO is defined as Mobile Virtual Network Operators (MVNOs). These are smaller, mostly prepaid carriers who rent the networks from the major cellular service providers and charge you much less to use their infrastructure. MVNOs enter into a business agreement with a mobile network operator and obtain services at wholesale prices. Then they set their prices independently and have some of the best low cost cell phone plans with identical or nearly identical service coverage area and network speeds.
What MVNO is the best to lower my cell phone bill?
The best MVNO service will be determined by your own needs. For example, I recently moved to San Diego and wanted to travel back and forth across the Mexican border. I've used MVNO services Cricket, Republic Wireless, and most recently Total Wireless. Unfortunately, these MVNOs did not have services that I'd be desiring. So, I switched from Total Wireless to T-Mobile because T-Mobile provided free roaming for uninterrupted service while in Mexico (up to a limit). If you do not intend to travel internationally, you may find a low cost MVNO better fits your needs and budget.
Note: I understand that T-Mobile is not itself an MVNO but they do have many MVNO companies using their infrastructure.
You can benefit from these cell phone plans with low cost and put more money working for you towards Financial Independence.   
Are MVNO worth it?
For many, our cell phones are our primary way to keep in contact with the people and things in the world that are extremely important to us. It is no surprise, then, that we tend to become defensive at the first thought of modifying the relationship between ourselves and our cell service providers.
After this lesson, you should be much more comfortable with examining and considering the options that most closely meet your needs.
Fiology thanks Deanna of Recovering Women Wealth, for shaping this lesson.
Read:
Take Action:
Do you really need unlimited data? Track your data usage and find ways to drive that number down and perhaps you'll discover you can buy a cheaper package. Know what network you need, buy your phone outright (don't rent it) and research some MVNOs to find one that is right for you. Worst case, you can always shift back to the more expensive option if you are truly unhappy with the switch.
Additional Resources
The best MVNOs for 2021

  by Jackie Dove of digitaltrends.com. I do not receive financial compensation from this page, only wanted to provide you a general list of current plans. This list is not all inclusive.
Quote:
"Enough is better than too  much." – French Proverb