What Type of Life Insurance Is Best for Me, if Any?
August 17, 2018

April 6, 2021

/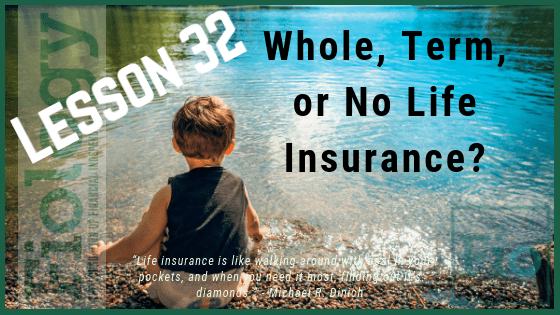 You may not need any type of life insurance.
You may assume you don't need any type of life insurance. But, it is beneficial to understand the many options available today and consider how they may provide a benefit to your financial future.
If you are already independently wealthy and feel confident in your ability to self-insure, feel free to stop reading right now and move on to another lesson in this Financial Independence Course.
Life Insurance seems an unlikely ally in the pursuit of Financial Independence. However, adequate insurance plays a vital role in planning.
In years past, workers relied on their employer for a pension as well as life and health insurance benefits. But, today, workers are increasingly unlikely to be eligible for a pension.
Those seeking Financial Independence will likely not have accumulated enough time with their employer to carry many traditional benefits into their post-W-2 years. Adequate life insurance protects families seeking financial independence until they have sufficient assets saved to to self-insure against premature death.
Life insurance is, at the end of the day, a precaution – a rainy day preparedness item. Every precaution can be thought of a "waste" of money. That is, of course until it is needed. The mistake commonly made is viewing insurance solely through an economic lense.
Life Insurance serves more than an economic role. Having it may provide peace of mind. In pursuing financial independence, the goal is to optimize your dollars, those you spend and those you save. Being smart about the purchase of life insurance can save hundreds and possibly thousands of dollars a year.
Read:
Watch:
Listen:
Take Action:
Use the

 Life Insurance Calculator  at calcxml.com to help determine the type of life insurance and the amount you may need. If you determine that life insurance should be a part of your plan, account for this expense in your FI calculations. Note: Fiology has no affiliations with this life insurance calculator and it should be used only to help you explore the topic. Please do your own extensive research regarding insurance.
Additional Resources:
Quote:
"Life insurance is like walking around with coal in your pockets, and when you need it most, finding out it's diamonds." – Michael R. Dinich