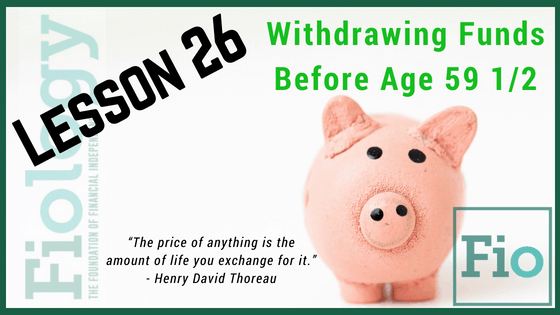 LESSON 26 : WITHDRAWING FUNDS BEFORE AGE 59 1/2
Fiology thanks Paige, an extreme frugalist of the FI community, for shaping this lesson.
Can I access my retirement money before retirement?
There's a myth that claims you can't get your tax deferred money until you turn age 59 1/2. The reality is that money saved in standard retirement accounts is available to the person who wishes to access it. There are a number of methods that can be used, legally, to access your invested funds prior to reaching traditional retirement age. By far the most popular are the Roth Conversion Ladder and the 72(t). For the retiree in their fifties, the Rule of 55 for withdrawing from a 401(k) is one method to explore.
This lesson includes an increased number of resources because it is important to truly understand these techniques as you execute your FI plan. Depending on what types of accounts you have available to you, if you are receiving matching contributions, account balances, expected passive income once you reach your FI number, etc. are all factors to consider. Learn as much as you can, you may be surprised just how beneficial these techniques can be.  
Read:  How to Access Retirement Funds Early  by Brandon of madfientist.com. These are the basics on the Roth Conversion Ladder and the 72(t) Substantial Equal Periodic Payments (SEPP)
Read:  Rule of 55 for 401(k) Withdrawal  by Julie Rains of investingtothrive.com
Watch:  Retirement Withdrawals before 59 1/2, Without A Penalty?  by Lethemon Financial of lethemonfinancial.com on YouTube
Listen:  043 | Drawdown Strategy | The Retirement Manifesto  by Fritz of retirementmanifesto.com on choosefi.com
Deep Dive on the Roth Conversion Ladder
Read:  CLIMBING THE ROTH IRA CONVERSION LADDER TO FUND EARLY RETIREMENT  by Justin of rootofgood.com
Listen:  017R | The Roth IRA Conversion Ladder | A Case Study  by Brad Barrett and Jonathan Mendonsa of choosefi.com
View:  Retiring Before 59.5 – What About Penalties?  by Mike and Lauren Moyer of mikeandlauren.com on YouTube.  
Take Action:  If you were not previously aware of this handful of techniques, keep them in mind as you deliberate how to shape your financial picture and take great care on how you will access the funds you will need to fund your expenses long before you reach traditional retirement age. Congratulation on making it this far.  Financial Independence is an amazing journey and I hope you are enjoying yours!
Additional Resources:
Read:  Traditional IRA vs. Roth IRA – The Best Choice for Early Retirement  by Brandon of madfientist.com
Read:  Mega Backdoor Roth  by Brandon of madfientist.com
Read:  Don't Fear The "Penalty"!  by Joel of fi180.com
Quote:  "The price of anything is the amount of life you exchange for it."- Henry David Thoreau
Fiology.com is an educational resource designed to teach Financial Independence (FI). We scoured the internet to find content from the best and brightest of the FI community and created lessons covering the critical concepts.
Get free weekly Fiology lessons straight to your inbox!