LESSON 47 : DREAM BIG
November 9, 2018

September 14, 2020

/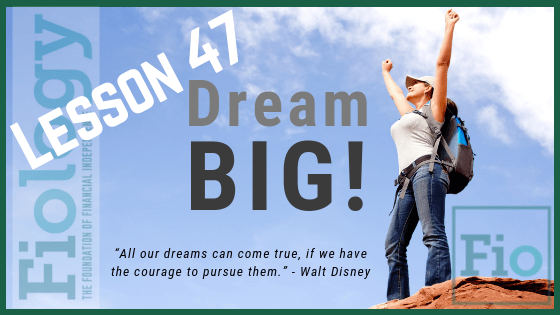 Why did you choose Financial Independence? For most of us it's so that we have the option to focus on things in our lives that bring us happiness and fulfillment. For some, this means spending more time with family and friends, for some it means continuing to do work they love, and still for others it is pursuing new experiences. Regardless of the "Why" of FI, a person on their FI journey dreams big. In a society where there is no shortage of demotivators and distractions,  dreaming big focuses us and keeps us moving forward towards our goals.
Read:  How to Stop Thinking Small  by Croix Sather of inspiyr.com
Read:  11 Reasons Why You Should Dream Big  by Robert of wanderlustworker.com
Read:  The Magic And Power of Dreaming Big  by Robert Spadinger of everythingiswithin.com
Watch:  The Magic of Thinking Big – Millionaire Mindset Ep. 14  by Dan Lok of danlok.com on YouTube
Listen:  The Magic of Thinking Big  by Dan Miller of 48days.com
Take Action: After reading How to Become a Big Thinker  by Michael Hyatt of michaelhyatt.com, write down your answers to the 7 steps he provides to develop the critical skill of Big Thinking. Mark your calendar for two months from today and repeat this exercise.
Additional Resources:
Watch:  Jim Carrey – Visualize, Believe, Manifest (Law Of Attraction) by Jim Carrey of iamfearlesssoul.com on YouTube
Explore:  Dream Big Quotes  by J.D. Meier of sourcesofinsight.com
Read:  The Power Of Positive Thinking: 10 Ways To Transform Your Thoughts  by Dan Cassidy of inspiyr.com
Quote: "All our dreams can come true, if we have the courage to pursue them." – Walt Disney