My FI Path To Living Life on My Terms
July 13, 2019

April 6, 2021

/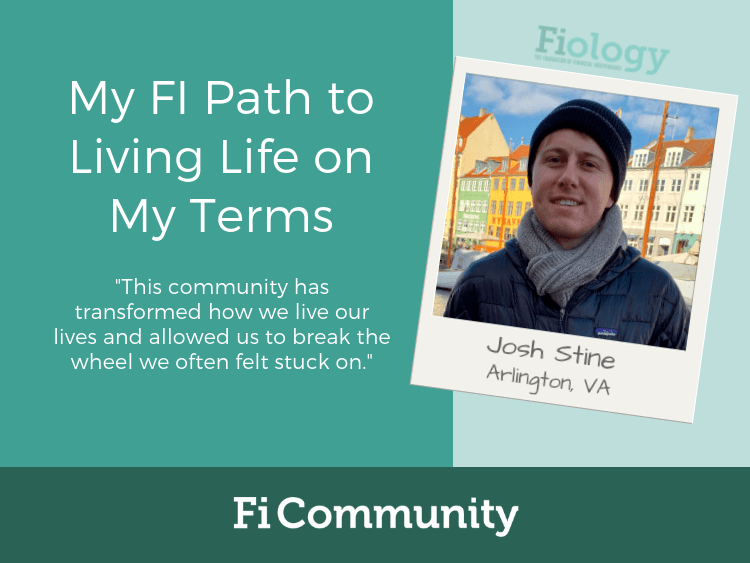 If you told me I would grow up to be an entrepreneur, I would've said you were nuts. My path to entrepreneurship hasn't been easy. It started in college. I spent four years laser-focused on whatever it took to get the ultimate job and be "successful." Thankfully, I formed great relationships and took entrepreneurship courses along the way while pursuing the goal of landing my dream job.
Leaving the 'Dream Job' to Pursue Entrepreneurship
During my junior year, I accepted an internship with a Big Four consulting firm. That internship led to a full-time offer and ultimately secured the dream job I envisioned. Without questioning if this was it, I dove headfirst into my consulting career. Six months in, I realized this job was not truly the dream. The dream job I had worked so hard for and incurred five figures of financial debt to obtain didn't suit me. Not only did I despise what they had me doing and the schedule, but waking up every day and getting out of bed also became a challenge. Every day was more of a struggle than the last. It took taking medical leave, many hours of therapy, and talking with my partner and family to realize I needed to leave, so I made changes.
I developed an exit strategy to get out of my consulting job. I started my financial independence journey before I knew about the FIRE (Financial Independence Retire Early) movement. I learned the basics of personal finance and became obsessed with reducing expenses so I could pay off my outstanding debt. Given my steady income at the time, I was able to pay off $23,000 of student loan debt in 10 months and build a six-month emergency fund. A year later, I gave my two weeks' notice without knowing what was next. I felt confident that I'd made the right choice for me.
During my entire consulting career, I battled mental health challenges I'd never experienced previously in my life. I'd wake up anxious and experienced many nights of endless work with impossible deadlines to meet. I felt I could never afford to take time off. I was in the worst physical health of my life.
This period in life helped me grow immensely as a professional, but at a considerable cost to my physical and emotional well-being. When I look back at it today, the lessons I learned from this experience ultimately prepared me for a higher chance of success as an entrepreneur, and now I am on to bigger and better things and a life lived on my own terms.
Turning a Side Hustle into a Career
While working as a consultant, I worked a few side hustles to bring in more income and quickly realized these were what I was passionate about. Even after working 10-12 hour days, I would come home excited to work on my many side hustles. One of the side hustles was in the event ticket industry. After leaving consulting, I decided to go all in by joining my friend Nick's event ticket brokerage firm and spent months learning the ins and outs of the industry. My relationship with Nick is one of the most important personal connections I made in college.
As a team, we focused heavily on growth and took the business from six to seven figures in less than a year. I was hooked! I put everything I had into this company, both professionally and financially. After a few years of growing, some of our now former partners wanted to go in a different direction than Nick and I. Ultimately, the growth of our business was too much to handle and we had to close down the company.
When we closed down, I was owed over $100,000 in reimbursable expenses, so it was an extremely stressful time in my life when we started liquidation. Many of us were expecting a payout based on the value of the company, but little remained after accounting for outstanding debts. After many months of wasted time with lawyers and former partners, I was able to move on from this venture in good financial standing. I questioned if I should continue in this industry, but I knew deep down to keep following my passion.
While closing down the old business was difficult, I knew that my passion from day one has always been helping people have more fun in life through experiences. Instead of sitting around feeling defeated, Nick and I went into business together a few weeks later. We understood the need to continue serving our clients and doing what we love. We started Seat Insiders with an entirely new mission. Today, we have a stable, profitable, mission-driven company that is helping hundreds of clients create memorable experiences.
Owning and Running a Business on FIRE
I introduced financial independence to Nick about two years ago and, initially, not much changed for either of us. Learning the concept was great. I was getting by and growing the old business and we kept investing nearly everything we made back into the company. Until we closed our old company, FIRE didn't mean a lot because we weren't taking a big salary and the company didn't have sound financial practices at the time. We made a lot, but also spent a lot as a company.
Fast forward to when we started Seat Insiders, everything changed. We applied much of what we were both doing personally to how we run the business. Half of all profit we make each month is saved and we focus on running the company as lean as possible. We question all our expenses transparently and openly. FIRE is not just for our personal lives; it has helped us transform the way we do business.
I'm thankful that I get to work with a partner that shares my values and is on the financial independence path. It makes doing business that much easier.
Benefits of Being Aligned on FIRE with Your Life Partner
Introducing your significant other to financial independence can be challenging. With my partner, we've shared expenses and finances for many years and later this summer we will celebrate our fifth anniversary. At first, just the thought of discussing finances was a stressful event each month. Many times, there were tears when we talked about money; but slowly, we kept working at it together.
Living by example is how I showed my partner how crucial it is that we are aligned in our financial goals. When I paid off my debt and scaled back my spending, she knew that I meant business. I spent months learning about everything from budgeting, investing, and more, and we slowly started to create more dialogue around it. Early in our relationship we, as many couples do, frequented restaurants and shopping malls. Our situation allowed us to spend frivolously on and with each other. Now on the FI path together, we listen to financial independence podcasts, like ChooseFI, which have helped us develop a shared life vision and keeps us motivated on the things that matter most.
Since discovering financial independence two years ago, my partner and I have achieved some incredible things together. In 2018 she applied for master's programs all over Europe and in August 2018 we moved to Edinburgh, Scotland, for her to do a one-year intensive program at the University of Edinburgh. Her program at the University of Edinburgh is one of the highest ranking in the world.
While providing better quality education, it also will save her more than $100,000 as the degree was a fraction of the cost of one available at any equivalent U.S. university and only requires her to go a single year, rather than two or three without a job. While we had to plan extensively for our move abroad, we have been able to save money with lower housing costs, free healthcare, and lower monthly expenses, all while living according to our values as a couple.
During our time in Europe, we've been able to travel all over the world, experience new cultures, build new friendships and grow in ways we never thought possible, all while living life on our terms. Our time is almost over here in Scotland, but we will treasure this experience for the rest of our lives. As a young professional, it's easy to get stuck in the wheel of how one is supposed to live life and be successful. While that may have worked for our parents and many of our friends, the world is changing and we no longer have to stick to that path for our lives. Had we not discovered financial independence, our lives would be very different. We may have never moved abroad, I definitely wouldn't have my business and I believe we would still be stuck in the wheel.
We've been very fortunate to discover the financial independence movement in our mid-twenties. This community has transformed how we live our lives and allowed us to break the wheel we often felt stuck on. We're still early in our FI path but look forward to building on our early success together as we move back to the Washington, D.C., area later this summer. I look forward to seeing many of you at some local events in the D.C. FIRE community and next year at Camp FI – Mid Atlantic 2020. FIRE on!
By Josh Stine of Seat Insiders